Live from Earth: Prince Arthur 1970, Montreal's Haight-Ashbury?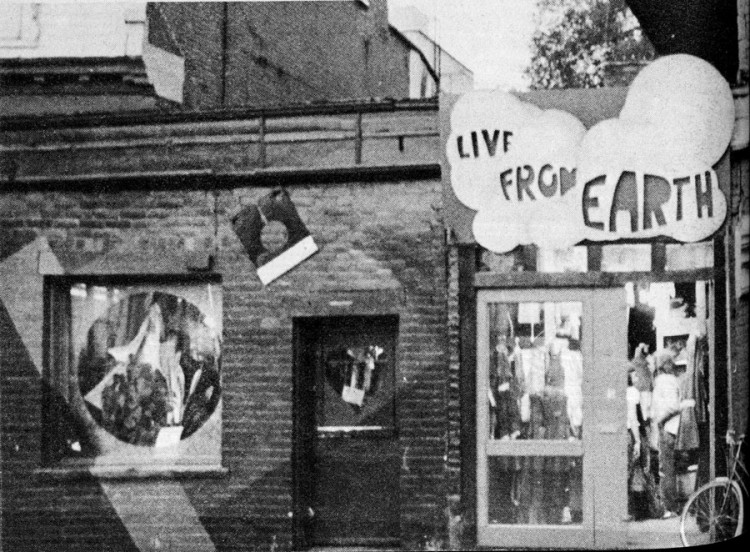 Live from Earth: Prince Arthur, 1970, Montreal's Haight-Ashbury ?
Prince Arthur St. east of St-Laurent heading towards Carré Saint-Louis was one of the most popular parts of town for the counter-culture crowd of the late 1960s and early 1970s. Even today's Fodor's travel guide to Montreal refers to this past :
In the 1960s rue Prince-Arthur was the Haight-Ashbury of Montréal, full of shops selling leather vests, tie-dyed T-shirts, recycled clothes, and drug paraphernalia. It still retains a little of that raffish attitude, but it's much tamer and more commercial these days. The blocks between avenue Laval and boulevard St-Laurent are a pedestrian mall, and the hippie shops have metamorphosed into inexpensive Greek, Vietnamese, Italian, Polish, and Chinese restaurants and neighborhood bars.
It may be debatable as to whether that strip was THE Haight-Ashbury given the concentration of "hippie" cafés, bars and cultural spaces further west around the Park Ave. – Sherbrooke district, but it certainly was still one of the liveliest areas at the time. It didn't hurt that Carré Saint-Louis had a reputation (lasting well into the early 00s at least) of being an easy place to score marijuana or other drugs in.
It is also debatable as to whether Prince-Arthur should ever have been turned into a pedestrian street, or should remain as one year-round, given its somewhat pitiful state in recent years (see this Gazette article from January 2014 for a grim account of the strip's current state.)
What is not debatable is its importance in the history of Montreal's underground or counter-culture milieu. Here is an interview with legendary Montreal head shop and hemp store owner Larry Duprey, conducted by Louis Rastelli in 1999, when the era discussed was that much closer in the past than it is today. Larry Duprey in 1999 ran the hemp shop – head shop Chanvre en Ville, located at 3418-A Park Ave. (in the same building as the legendary Phantasmagoria record store, which operated from the late 1960s to the mid 1990s.) We spoke about his experience running one of the first "head shops" in Montreal in 1970, as well as the changes in the area since that time.
LR: So when did you open your first shop?
Larry: We had the second head shop in Montreal. The first was the Picasso, on Bishop, just south of Ste. Catherine. It's still there (in 1999)—the guy who owns it just sold it to some of his employees one or two years ago. We opened up Live From Earth in 1970 on Prince Arthur, and we were like the third boutique, third shop on this very dead little street.
There were three shops on the same block between de Bullion and Coloniale. One was Grizzly Fur, a used fur coat store. On the other side of the street was a leather bag shop. We were the first new businesses on Prince Arthur, and we brought a lot of attention to the street. Then other shops started to open, and then the restaurants started opening up, (Greek restaurant) Demos being one of the first ones.
During the 70's Prince Arthur was really like a village. In the 80's they made the mistake of converting it into a pedestrian mall. But in 72 or 73, there was a nice grouping of used clothing stores, head shops, and there was still traffic on the street. When we first started hanging out there in 69 or 70, there were empty stores, old Chinese laundries, old Jewish tailors, and that's basically what it was. Mazurka was there (the long-running Polish restaurant which sadly just closed in late 2014), the Polish War Veterans' Hall was there, which is now Café Campus.
They're still in the building, but they owned the whole thing, the space where Campus is. It was a very fun time, and we drew a lot of attention to that part of town.
LR: Was there any kind of analogous place before that, some kind of hip area in the earlier 60's?
Larry: I would say that downtown around Drummond and Stanley, there were some bars. There was the Bistro, a very French place where you could get baguettes, and French wine— a fabulous hangout. But as far as a hip village goes, nothing came close to Prince Arthur. Because it was the late sixties and early seventies, that was what was apropos at the time, smoking and acid and hippies…
LR: You must've sold ZAP Comix…
Larry: Oh yeah, well a lot of what we're doing right now, you know the old saying, 'what goes around, comes around'… Many people who knew me back then are amused at the irony that I'm right back where I started. I had sold my interest in the shop to my partners because we had taken in Indian garments from a young Indian guy who was peddling accounting, and he would bring over stuff from India. And he started leaving stuff in the shop on consignment. We had a shop that was about as big as this office right here (about 14 by 14 feet). It was an amazing little shop that did extremely well. The T-shirts were hot, so I had the Indian guy bring back a whole bunch of T-shirts, and I sold all the T-shirts, and I thought "This is a really serious business" so I set up my own business doing Indian imports, and that was it. For over twenty years I've worked out of India and many other countries. So I sold my shares in the store, went into wholesale import and trading, and eventually by the eighties became quite successful. The nineties took care of that success.
But it led me to travel all over that part of the world in the 70's. And on a beach at a New Year's party in Goa I met a very beautiful, lovely Indian girl who became my wife and mother of my three children, and we're still married. Surely the most precious thing I'd found in India.
I'd been in India about seven years by then. They had an incredible ticket back then, it was so cheap, even in the 70's you couldn't afford not to go. It was an excursion ticket, you had to stay for at least 3 weeks, and you couldn't stay longer than 4 months. And I spent every winter over there, travelling, drifting around India, basically learning where the craft was, and hanging out, smoking a lot of hashish, and drifting in and out of the different scenes there. Because it was very much the road scene—
LR: There were other Westerners to hook up with…
Larry: Oh yeah, there were a lot of people, that was very much the hip thing, the end of the 60's, beginning of the 70's, there was a massive 'road' scene there, they called it "the Road to Kathmandu." The summers of extreme heat in India, they'd spend them in the mountains of Nepal, India or Afghanistan. Most of the time rolling, hand-rolling and processing cheris, uh, hashish.
LR: You'd get a job doing that?
Larry: Well, you'd just do it yourself. Produce a certain amount, then in the fall, you'd drift down to Goa, where the tourists started coming in, they'd call it the 'season,' pretty much like what happened in Cote d'Azure. People would arrive about mid-December because there was a big New Year's party every year there. When I met my wife, there were over 10 000 Westerners on a beach, there was more hash smoke than in a pool hall. There was an immense scene for this party—it had been building and building over the years. So you'd come down from the mountains, people would deal their hash, houses were rented for like 10, 15 bucks a month. Life was very good and the sea was beautiful…
I had also during the 70's invested in a head shop business that became Canada's largest paraphernalia distributor. It was called Northern Toke. We manufactured for the first time many of the types of pipes that are on the market now. We also sold bongs and papers that we imported from the United States. All of the things that are happening now in this industry first happened then. I'm told that in California, a lot of the Indian clothing we had is coming back, a lot of the prints we were selling in the 1970s are selling again. And the popularization of marijuana is of course coming back, this time much stronger.
LR: Especially with the medical stuff…
Larry: Well we didn't have those things as a backup then, the clothing, the food potential of hemp, all this information that leads one to believe that this is an enormously important resource, um… we just smoked it, and every once in awhile in the fog of the smoke someone would say "You know, it makes good rope. Sails were made out of it." But we never got past that, you know, the information had actually been expunged. And then this is the most important textile resource the world had, or has, and it's not a part of our history books. To have had that taken away, they had to consciously manipulate history.
LR: But now it's hard to suppress.
Larry: Well, now it's past subversion. They've failed miserably at suppressing it, and now they're backing up so fast they're tripping over themselves. You can see it happen with medical, "Yes to medical, but NO recreational." Well, we heard that five years ago; they were saying, "Yes to industrial, but NO medical."
LR: Well now even the police are saying that anything under 30 grams shouldn't be a criminal offense.
Larry: The policemen simply just don't have the time. Also, they now have to bust their friends, their nephews, their kids… It always was the young who took the beating. They rarely prosecute the 45-year-old, they'll throw his joint away and say You should know better. Now these cops have a problem, they're running into their own relatives. It's over.
LR: Are you a native Montrealer?
Larry: Well, I originated in Manitoba, but I've been here since the 60s.
LR: I'm assuming that when you had the shop on Prince Arthur, you lived right nearby?
Larry: We lived within a hundred yards of the store, in an old rooming house we turned into a house.
LR: Was there as much traffic in the area?
Larry: Oh, it was much less congested. St. Lawrence was just sort of an ethnic street, there were none of the clubs, none of the attention at all. They were really all just funky little Greek and European restaurants and grocery stores, and lots of clothing, garments, textiles.
LR: There are still reminders of that here (in 1999, not so much in 2015).
Larry: Just the last dregs, they're hurting…
LR: I guess the rents go up once the clubs move in, and the taxes go up…
Larry: It sort of changed the whole area. When I started my company I moved into a warehouse on St. Lawrence (St-Laurent Blvd) which is now a big bistro-bar, right at the head of Milton. I spent 21 years in that building. And I became a member of the executive of the St-Laurent Merchants Association. So along with four or five other people, our major occupation was putting on two street sales a year. We started that in 1980. And that was the sum total of our efforts, with the association.
LR: Do you think there's anything else you could've done, in hindsight?
Larry: Well, you couldn't really keep the growth, we watched Prince Arthur destroy itself, and we started to see that it was the same thing starting on St. Lawrence. We managed to get the city to put a moratorium on bar licenses, liquor licenses, but we knew that that was only a matter of time. And for quite a few landlords, they wanted to see this thing open up because they were gonna get more money. But the lesson learned with Prince Arthur, again in a free enterprise system it's very difficult to control it. But in Prince Arthur, they rushed in a greedy headlong fervor, and they just destroyed any other commerce that was there. So when you go down to Prince Arthur, it's very quétaine, you know (meaning 'cutesy'). In the summer it's just piles of people sitting outside, there's just no other reason to be there aside from having a meal or a drink. You don't have the galleries, you don't have the clothing stores, and you don't have anything else. You've gotta have a mix of types of businesses to make it worth it for people to visit year-round.
LR: That's what's great about St. Laurent, but…
Larry: It's starting (in 1999), the same thing.
LR: Hofner's just closed.
Larry: Yup, they went out of business. So you're losing that mix which draws the daytime traffic, which gives, you know… There are still some nice boutiques, and hopefully that will last. The clubs have so much money, and the big restaurants come down and just eat up the area. Now what they did between Prince Arthur and Sherbrooke is OK, that was a pretty dead zone, there wasn't really a lot they bashed up there. Now they're starting to work their way up. But you know, you go north of Pine Ave. and you get empty storefronts. So there's no great success happening, but then there's no great success happening in the rest of the city. We get very poor administration here, very very poor.
LR: Development by demolition, basically.
Larry: No foresight, absolutely no idea. I mean, this is a tourist city. Tourists love Montreal, Americans love Montreal. So when you have that happening, find out what they want and give it to them. Kids flow up here because (marijuana) bud is available, they don't get hassled by the police, they can find it, and buy it and enjoy themselves. Make it easy. Get some coffee shops, make this like Amsterdam. Don't wait around and pull some kind of moral trip. Twenty years ago they were saying this about gambling. "Oh no no, never." Now they can't wait to build another casino here. You've got to give them what they want.
The worst thing that ever happened to this city was Drapeau. He came along and cleaned up the city, a very exciting city. And he brought us two things that we're still paying for. One put us on the map (Expo 67), and the other one sunk us (the Olympics). I'm sorry, but when you're still paying for a stadium that's a piece of shit…
LR: And your only solution is to try to build a second one…
Larry: You're making a big mistake, that's not too much intelligence.
LR: It's really hard to grasp how badly the city is managed right now. I'm constantly hearing of landmark old buildings getting pulled down for some new, shiny and bigger building that might not even get built.
Larry: Unbelievable stupidity, unbelievable. Take away the charm of the city, and stick up what. And for whose benefit? For the construction industry? Not for tourists, not for us…
A modified version of this interview was first published in Montreal's Fish Piss Magazine, Volume Two, Number One, 2000.