Ethel Bruneau Miss Swing
Ethel Bruneau : Miss Swing
Interview conducted with Ethel Bruneau, April 15, 2021 by telephone during a confinement period of the pandemic.
Ethel Bruneau was a Canadian dance legend who performed and taught in Montreal from 1953 to 2019. Born in 1936 in New York City to a Barbadian father and Jamaican mother, Bruneau sadly passed away in July of 2023 at age 87.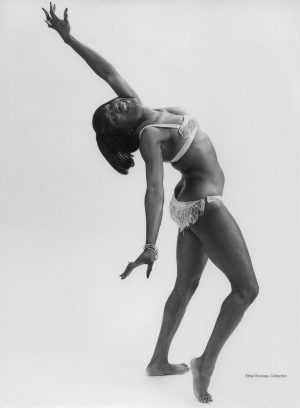 From 1953 to the 1980s, Bruneau sang, danced and performed in countless nightclubs across Montreal, and occasionally toured and performed across Quebec and elsewhere in Canada. Known for her acrobatic Afro-Cuban style, she was a fixture in legendary clubs such as Rockhead's Paradise. Nicknamed Miss Swing, she also tap-danced on TV shows such as Ed Sullivan's and Sid Caesar's. Starting in the mid 1960s, Bruneau taught generations of new dancers at her own school in the suburbs of Montreal in Dorion and later Dorval, until the school closed in 2019.
This interview was conducted on April 15, 2021 by phone during a confinement period of the pandemic. Andy Williams and Louis Rastelli interviewed Ethel Bruneau alongside her daughter Suzanne Bruneau. This interview has been edited for clarity and length.
Suzanne Bruneau: She came up with Cab Calloway in 1950-what?
Ethel Bruneau: 53.
Louis Rastelli: Do you remember where you played with the Cab Calloway?
EB: Yeah, at the Bellevue Casino.
LR: And what did he say when you decided to leave the band to stay in Montreal? How did that come about?
EB: Because I was an independent act, so, you know, I did the Cab Calloway– you know, I went to Bellevue at night. I played three weeks with them.
Andy Williams: How did you get the name Miss Swing?
EB: Roy Cooper. Roy Cooper is the one who brought all the big acts in. Always a big act, if he liked you, he booked you.
AW: So, Ethel, what I find interesting is that you left Harlem in the heyday of Harlem to come to Montreal. Was the money better or was it easier access to what you're doing?
EB: I thought the money was better. I mean one thing you had, you had your good nightclubs.
AW: So there's a lot of— there's a lot of clubs you played in, and I'm really curious, you played the Rockhead's Paradise. You played the Alto.
EB: You remember [the] Alto?
AW: No, but I read about it. I read about all this stuff. So, I know you played at Alto, I know you played at Black Bottom, you played in the Cavendish Club, but I don't really know the Maroon Club.
EB: Oh my god the Maroon Club. It was on Notre Dame, right next door to the courthouse. And the owner of the club was… Do you remember Little Bee? Little Bee was a showgirl right? She weighed about 300 pounds, she was a good singer, and she—she used to pack the club, she was popular. The Maroon Club, the people who came there were all the sailors, but they were very good, the people were very good, and the owner was a little small, man. He was very nice to the people. She was a good singer [Little Bee], in bands too, she sang in bands.
LR: You said your favourite place was Rockhead's. Why was that your favourite?
EB: Because when you were doing a show, you had the best–one of the best groups. [There was also] the people. Not only that, the atmosphere, it was hot.
AW: I heard he [Rufus Rockhead] was a very special man, he'd give out flowers and roses.
EB: He did, he gave out flowers and roses. Yeah, well, his son was doing this and then his son got sick and passed away. So he was very, very classy, just like his father he was. Mr. Rockhead was a very special boy.
AW: You won the Afro-Cuban Queen Award, why was it called that?
EB: Because it was Afro-Cuban!
SB: Because her specialty, her act was: she came out and she sang, she tap danced and then she went into a real intense Afro-Cuban dance number. She's got a microphone in her hand and she had her long gown on. Then the long gown comes off and she's in a two piece and she does like flips and she's doing Afro Cuban dancing. Like Ethel studied with, you know Martha Graham. And she knows Pearl Primus and all these [dancers] so, she got into Afro-Cuban dance and she brought it to Montreal.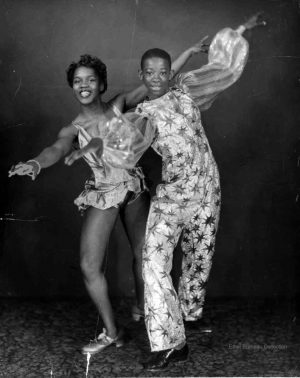 EB: I studied dancing with Mary Bruce, she was my mentor, she was my second mother and she sent me to Canada.
LR: Is that when you had the opportunity to come up here with Cab Calloway?
EB: Mary Bruce was taking care of my booking.
SB: She had to call my grandmother and let my grandma know that she loved Canada and she loved Montreal. And that she, you know, she wanted to stay. So, I believe my grandparents or my grandmother came to Montreal to see what was going on because my mother was a very young woman.
[…] When she got here, when she got to Montreal she had her coat and her suitcase […] it a beautiful picture. Montreal was just one of those places where if you think about like our grandparents, they were very adventurous compared to us. They left their cities of birth and traveled to other parts of the world all the time. I think for my mom, when she went to that audition with her friend, she was just sitting in the audience, watching her friend do the auditioning, the person who was doing the auditions, asked my mother, well, what do you do? What do you do?
So I have an uncle that lives in Barcelona, Spain, his name is Cornelius Scott, and he was my mother's dance partner growing up. He also left Harlem.
AW: Your mom's dance partner had a nickname. I forget what he was called.
SB: Poppy, my mother's dance partner was Poppy. We keep in touch with him. We talk to him on the phone sometime, you know, so the picture of my mom and him standing together, that's my uncle Poppy. And he lives in Barcelona.
EB: He was a ballet dancer and he would be in Life Magazine, he danced at Carnegie Hall.
SB: I think Life Magazine March, 1953. Yeah, my uncle Poppy's on the cover, …
…
AW: Also Ethel, I'm also curious about your teaching before you had your school, you were teaching in Dorion, why Dorion?
EB: I opened it June, 1970.
SB: Mommy. I was, I was five. She was pregnant with my brother in 1970, but the dancing school in Dorion was opened in like 1966. The first dancing school in Dorion was called the Ethel Linda Lee Dancing School. And, you know, over there they didn't really have anything and people would open up dancing schools in their basements. Right mum?
EB: They had very nice schools. So, I taught and then turned to Linda, um, she wanted to have a school like mine so we opened it together. I taught tap, jazz and ballet.
SB: And acrobatics. Don't forget about acrobatics!
LR: I'm curious to know the decision to go into teaching were you starting to maybe perform less after you started your family?
EB: No, it's just what it was; I just taught the kids who loved it and I taught acrobatics and taught something for the kids to do, so it they gave them [something] to do and they learned how to do an acrobatic routine. The kids' parents loved it.
LR: Did you uh keep performing in the clubs after you began teaching.
EB: Oh my God, I just stopped doing it.
SB: She was teaching and performing. I'd like to just add that, like when she did start, when the club scene kind of quieted down in Montreal, most of the acts went out of town. So as a little girl, I spent a lot of time with my mother. We would go all across Quebec, Winnipeg. My mum performed at the Albert Rockwell Hotel in Winnipeg. So, there was a lot of performing outside of the city. She would do her gigs on the weekend and sometimes during the week.
EB: And then I danced all through Montreal.
LR: … Knowing Afro-Cuban [culture] so well, did you go to Cuba in the fifties?
EB: Yes, I did
LR: Wow. So you were there before Castro when it was a big party town.
EB: Yeah, I was there somewhere in the mix- a part of it, and I met a girl, who went by the name of Marlene. She was also a fabulous dancer. Her stepfather was very, very good. And he was in a Latin band.
SB: Barbara Aria, mommy? Barbara Aria was a Cuban, a female Cuban trumpet player here in Montreal.
EB: She was very good, and she sounded like Louis Armstrong.
…
LR: Do you remem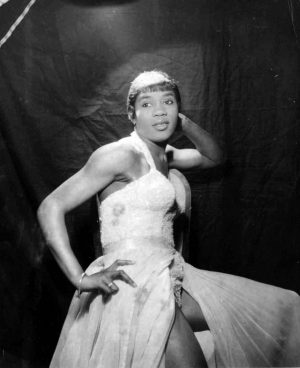 ber which—were there any particular clubs that had more Afro-Cuban than other clubs?
EB: Um, there was one club that was really special.
SB: Maison Bleue, the Mocambo?
AW: Where was the Cavendish Club?
EB: The Cavendish was on Mansfield Street. My husband worked over at the Mansfield Tavern then the Cavendish- one person working, what's her name um, Taika, Taika?
SB: That was the name of the of a woman who has an act in the club at the Cavendish called Taika. She was one of the stars.
AW: So Ethel, did you do any special performances for Expo 67?
EB: Oh yeah.
SB: There was at Man and His World the club called the Tasse au Rhum. That was the only one I remember. And I remember when my mom performed and I performed because I would always be her little sidekick. When we went out of town, you know, I started performing, I started dancing when I was like three or four years old. And my mother would always take me out of town with her –sometimes like I'd be in a hotel room. But sometimes I would come out and I'd be on the side of the stage, it would be like the last show, like maybe one o'clock in the morning and she'd put me on stage and I do my Afro-Cuban too. And then she would flip me over and I would do like somersaults. Both myself and my brother traveled with my mom around Quebec when she was doing a lot of nightclub acts.
EB: And she tap danced.
SB: And I tap danced. I performed until probably I was about 21.
AW: Right.
SB: But, my mother—we were going to the El Morocco. We went on the train to Winnipeg and my mother was actually going to McGill University. She studied early childhood at McGill and finished her schooling. And, in the 1970's, when the nightclub act was going down, she was still doing her nightclub act out of town, going to McGill University and taking care of her kids. She became a nursery school teacher and a special educator. She became an educator of special needs children. […]
Her dancing school was one of the few dancing schools in Montreal that took children with special needs in. We had kids, we had students that were deaf students with Down Syndrome. She never gave up on—she never turned children away and she also never turned people away if they didn't have money to pay for dancing lessons, tons of kids in Montreal, thousands of children and adults who were taught by Ethel Bruneau….
…And she got that, that ethic of giving it, passing it on from her teacher, Mary Bruce, in New Harlem, New York. As my mother would say, she is, you know, she is a preacher of tap and she just passes it on to her disciples. You know.
LR: That's amazing
EB: Travis was eight years old, he had never danced in his life, when he came and did it all.
AW: Yeah Travis is amazing.
SB: But my mother, she was the MC at the Rockhead's Paradise. She was the in-house MC, she ran the kitchen there. Mr. Rockhead's would say, "Swingy, can you come and take over the kitchen?" and her and my aunt, they went in there and they cleaned that kitchen up and serve some good old fashioned soul food.
AW: I know about that I know about that, Ethel I heard about your soul food.
SB: What did you cook mommy, in Mr. Rockhead's kitchen?
EB: I cooked fried chicken; I cooked peas and rice.
AW: I got a question for Ethel people can see that Montreal was a jazz city back in the day, but it was also a rhythm and blues town also, wasn't it?
EB: Yeah.
SB: Yeah, for real, she had said that in an interview the other day, that when she would go out of town to a club and she had a couple of French songs in her bag, they would say, no, no, "Chante les blues, rhythm and blues." They wanted to hear rhythm and blues and they didn't want to hear French. They only wanted to hear English.
And as you know, I think Quebecers have the blues. They've always had the blues being Quebecers. That's why Offenbach became so popular later on because of the blues, okay? So they want to hear the rhythm and they wanted to hear rhythm and blues. And a lot of bands when my mom would go out of town, they would be like, "okay, Miss Swing, what are we playing?" They do rhythm and blues. My mother had in her song bag, she did a lot of Ray Charles. She did a Jimi Hendrix, Red House type music she would do, you know, flip flop and fly. She sang all the songs in her repertoire. She also sang, you know, at one point, the Doobie Brothers were playing somewhere out of town. And my mother was hanging out with the Doobie Brothers singing.
My mother sang a lot of Billy Preston. She sang, Elton John, but she would do it off tempo. You know, she's very good at doing her own version of the songs that she thought that people wanted to hear.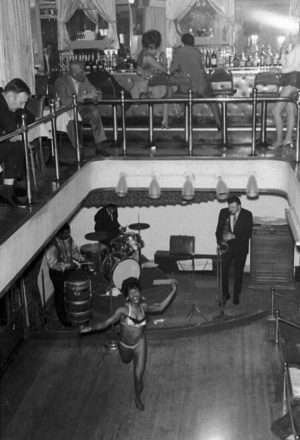 …
Like if you look back in the 1930s, you know, there are a lot of guys who […] loved jazz because Montreal is known as the jazz capital of Canada. But at the same time, there was an undercurrent of people who were probably not as happy, let's say blues was for them. And I can tell you, even when I was. 7, 8, 12, 13. And I would travel with mother. It was "chante le blues." That's what they would say "chante, chante le blues!" They would scream it in Montreal. And when you go out of town, you go to Lac Joliette, Saint-Gabriel-de-Brandon, St. Comeau, Thetford Mines "chante le blues!" They were poor. A lot of people were not that wealthy. It's a music that appealed to them, I believe. I don't know if I'm right about that, but that's my personal opinion.
LR: So you mentioned Biddle's, I guess you would have played at Biddle's Club in the Laurentians.
EB: Oh way up in- I forget the name of it…
LR: Maybe Sainte-Adèle?
SB : Sainte-Adèle, Sainte-Adèle
EB: Yeah, he started the club, yeah.
SB: My mother worked for him as well, you know, but there's like, so many artists.
…I would like to say that, you know, like for me growing up when I was a child there's times where I would get up at three o'clock in the morning. My mother says it was really fun hanging out with the artists regardless of your race, your language– when you were an artist you were in a family. My parents' first apartment was on top of the Montreal Poolroom in Montreal. That's where they lived. And [they] told me stories about like you had the acts from Russia and Poland, you had the acts from Trinidad, you had expats, everybody would hang out together. They would come to our house. My mother would cook black eyed peas and rice, collard greens, fried chicken. And the last time that we had those gatherings was when Vic Vogel was alive … Vic passed away, mommy.
EB: When?
LR: Oh it was about a couple years ago.
SB: I took my mother up the last time,I got my mother in a taxi. We went up to Barfly, the last places he was playing was at was Barfly on a Friday night. So we went up there, the students would be there. And when he saw my mother, you know, his face would just light up. He didn't like people clapping for him, but only my mom was allowed to clap that night, you know?
AW: Yeah that's true, that's typical of Vic yeah.
SB: He also was [part of] the band that opened when the tap dancers did the 1998 'Jazz Festival, Vic Vogels band opened up the show for the tap dance- the Ethel Bruneau tap dancers to go on.
But as far as like the 1960's, my mom was a busy woman, she was a career lady. She worked every day, all through the year she had contracts. She would go, I would, sometimes go with her to the booking agent Grimaldi. I would go to Grimaldi's office with her to get her contract. She was booked solid like the creme de la crop here, you know.
My mother was not a stripper. She didn't have to, you know, like she was an opening act for bigger acts. You know, my mother used to entertain at our house on Friday, Donnie Jordan, he was the first black man on a Canadian dance show. And sometimes our living room turned into a rehearsal room.
So, Donnie would come over and he would practice his dance moves in our living room in the 1970s. Sometimes strippers would say, "Miss Swing can you show me how to move?" Our living room turned into, you know, a room where the dancer would come over and the go-go dancer or the dancer or whatever and our living room would turn into a dance studio. So I think for Ethel, it was a very natural progression to open up a dancing school. And because she was so influenced by Mary Bruce, I think that her true calling was to teach.
AW: Right.
SB: You know, am I saying it right mom? Let me know. Sorry, I don't mean to take over, but it's like, you know –me, Tracey, Charlie Jr., Stephanie, we sat many times and said how blessed and how lucky [we were] as children. And remember something- we didn't live in Little Burgundy. Most of the jazz artists and nightclub performers did, but we lived in the east end. I grew up in and was born in the east end. I grew up in Rosemont and then my parents moved away to Bas-Anjou, but Ivan Symonds, Biddle, all of us, we lived on the north-east side of Montreal. I didn't know about Little Burgundy until I turned 18.
AW: Wow.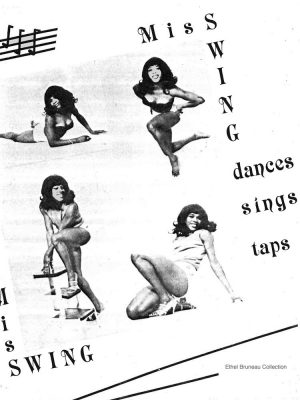 LR: But what about –in Little Burgundy [she] had mentioned that she had been active in the Universal Negro Improvement Association.
SB: Yeah, well, there was another dance teacher at NCC. Her name was Olga, Miss Olga, mommy?
EB: Yeah, Olga Spencer.
SB: Olga Spencer was, you know, Burgundy had its own village. You know, I lived in burgundy for 21 years and Burgundy has its own pulse. Its own heart– it's as Paul Jay from Highroad Productions said, he's never seen a community like Little Burgundy in all of Canada and Miss Olga Spencer, you know, she was at the NCC, you had Oscar and …
EB: That's where they grew up…
SB: You know, so they were very much insulated into their own community and had their own thing. But my mom opened a dancing school in Little Burgundy at the UNIA.
EB: Mr. Langdon is the one who asked me if I would go to the UNIA and teach and do shows. And so I got the kids, and we danced and we did everything.
SB: There you go. Yeah. I think the UNIA was a nice space. You know, there was a lot of things going on there. We had the Nation of Islam in there. The UNIA had the Masons down there. There was a nice little spot, you know, and, and Ethel was able to give a lot of people dance lessons that didn't have money, you know, she would always say, "if you want to bring your children, and you're willing," she wouldn't– I mean, we had to pay rent and stuff, but she tried her best to give, you know, opportunity. Another little dancer who's on Julie Snyder right now, name is Justin Jackson. And my mother is the reason why he's the dancer that he is today. He has his own personality, but my mother, you know, taught him what he knows to become a tap dancer in the world.
AW: Right, Justin Jackson.
SB: He's been on the Wendy Williams show. He's been in the Olympics. He's been on So You Think You Can Dance. She found him. Where did you find Justin mom?
EB: He was in grade 2 at Westmount High.
SB: Westmount Park.
EB: And the principal Mr. Saunders, said "Ethel can you come in here," so I went in there, as I was teaching and the kids- the children looked- [he] said "oh Ethel are you going to teach us tap?" "yep [I said] I'm going to give you all tap dance lessons."
SB: As a matter of fact, at the UNIA, my mother would bring Donnie in every second Saturday to teach ballet and jazz. And Heather Payne would come in and do ballet on the other Saturday. So, the kids got jazz as my mother's tradition, in the Mary Bruce tradition, you got jazz, you got tap. If you could sing, she would get you to sing, but you did ballet, you did tap, you did jazz.
…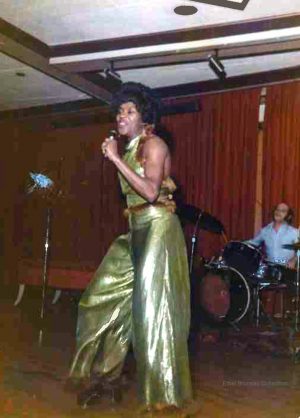 Yeah, my mother worked with Zachary Richard, people like Michel Louvain, all these acts, they all hung out together. They work together. They laugh together. They ate together, so not really this sense of separatism or the Quebec "ici on parle français" because Quebecers were not like that in that sense. Yes there was always the group of people who want to uphold, you know, the language rights and all that, but that was not the dominant force, eh mom?
EB: No, they wouldn't– you know when they say, Miss Swing you [are] on that show, you're going to be doing this on the show.
SB:  Maurice, you know Maurice, right?
EB: We worked with Maurice, I worked with him,
LR: Maurice Chevalier?
EB: Yeah, I loved it. I loved dancing for all, of them
SB: Even if you didn't know all the words, they didn't care, you know, because I think they appreciated that my mom would sing a French song. Like she has this favorite song. It's called "N'oublie Jamais" and she would sing that, and they would just be happy, but then they would say, okay, Miss Swing "chante le blues."
EB: Yeah, they would say "Miss Swing you got to sing for us all day and you'd have fun."
SB: Right, it's more about enjoyment. Like, my mother always says that people came to the nightclubs in the fifties. People came to the nightclubs with their lunch boxes, I guess, ready to go to work the next day!
EB: And you know Alys Robi.
LR: Oh, yeah, the famous cabaret singer.
EB: Yes. She, what a nice lady and I remember everybody loved her and she was on everybody's show. And it didn't matter who she was or who you were. So for some reason I just love French. Uh, I enjoy French.
SB: And you married a French Canadian too, right? So you must have liked the French.
…
SB: I think we're a very unique part of Canada. I think that I wouldn't be talking to you, my brother wouldn't be here. We wouldn't be here unless my mother had this dream, this great dream and took a chance. And I think it's a lesson to all the young people today to take a chance, take a risk. You know, you reach for the moon and you might land on a star. And my mother landed on a star.
…
One of the last clubs that my mother worked at was The Rialto– The Rialto [is still] doing shows. My mother was [in one] in the 1980s. My mother was still, you know, would still go do a gig here or there. She had a mortgage to pay.
AW: That's what it is.
SB: Yeah mommy worked at The Rialto Club on Park Avenue. Where else? Mum, where are other little clubs that you go….
EB: Oh I'd go up and down Saint Laurent, do a show…
LR: There was the New Orleans for awhile.
SB: The New Orleans.
EB: Oh god yes.
SB: And then the last one or the last big show she did, they closed that place a while ago, but it's really cool inside. Uh, they did, it was Claude Blanchard, with Vic Vogel and it was at the Cabaret. And if you want to know my mother's favorite songs, just for fun. she likes, Blueberry Hill. She also worked with Fats Domino here, by the way, we have pictures of Fats Domino.
LR: So what was her favourite song?
SB: Her favorite song is Bye-Bye Black Bird.
AW: Right.
SB: Yeah, uptempo. And the other one, what was that song? Them There Eyes by Nellie Lutcher.
LR: Oh, wow Nellie Lutcher.
AW: Which version of Bye-Bye Blackbird?
SB: Nina Simone, Nina Simone. It's uptempo. Yeah, uptempo. She likes the Nina.
But sometimes I teach, you know, and I'll tell you something about tap dancing. Tap dancing is like riding a bicycle. Once you've learned tap dancing, you never forget it. You can be a hundred years old. And my mother saw students who were 92, her oldest student was 92, even with Alzheimer's. They still remember their tap steps. And that's her gift. My mother's gift is to be able to teach she never looked [at people]. She always says, "I don't look at the color of people's skin. I look at your feet."