Live from Earth: Prince Arthur 1970, Montreal's Haight-Ashbury?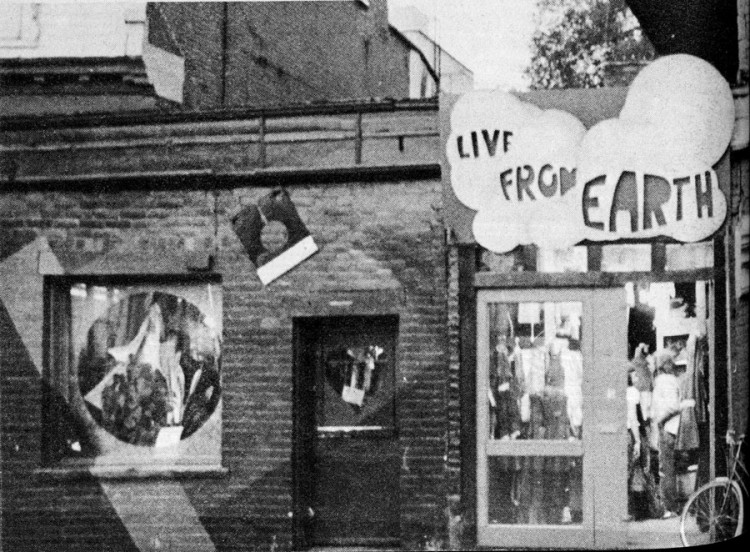 Live from Earth: Prince Arthur, 1970, Montreal's Haight-Ashbury ?
Prince Arthur St. east of St-Laurent heading towards Carré Saint-Louis was one of the most popular parts of town for the counter-culture crowd of the late 1960s and early 1970s. Even today's Fodor's travel guide to Montreal refers to this past :
In the 1960s rue Prince-Arthur was the Haight-Ashbury of Montréal, full of shops selling leather vests, tie-dyed T-shirts, recycled clothes, and drug paraphernalia. It still retains a little of that raffish attitude, but it's much tamer and more commercial these days. The blocks between avenue Laval and boulevard St-Laurent are a pedestrian mall, and the hippie shops have metamorphosed into inexpensive Greek, Vietnamese, Italian, Polish, and Chinese restaurants and neighborhood bars.
It may be debatable as to whether that strip was THE Haight-Ashbury given the concentration of "hippie" cafés, bars and cultural spaces further west around the Park Ave. – Sherbrooke district, but it certainly was still one of the liveliest areas at the time. It didn't hurt that Carré Saint-Louis had a reputation (lasting well into the early 00s at least) of being an easy place to score marijuana or other drugs in.
It is also debatable as to whether Prince-Arthur should ever have been turned into a pedestrian street, or should remain as one year-round, given its somewhat pitiful state in recent years (see this Gazette article from January 2014 for a grim account of the strip's current state.)
What is not debatable is its importance in the history of Montreal's underground or counter-culture milieu. Here is an interview with legendary Montreal head shop and hemp store owner Larry Duprey, conducted by Louis Rastelli in 1999, when the era discussed was that much closer in the past than it is today. Larry Duprey in 1999 ran the hemp shop – head shop Chanvre en Ville, located at 3418-A Park Ave. (in the same building as the legendary Phantasmagoria record store, which operated from the late 1960s to the mid 1990s.) We spoke about his experience running one of the first "head shops" in Montreal in 1970, as well as the changes in the area since that time.
LR: So when did you open your first shop?
Larry: We had the second head shop in Montreal. The first was the Picasso, on Bishop, just south of Ste. Catherine. It's still there (in 1999)—the guy who owns it just sold it to some of his employees one or two years ago. We opened up Live From Earth in 1970 on Prince Arthur, and we were like the third boutique, third shop on this very dead little street.
There were three shops on the same block between de Bullion and Coloniale. One was Grizzly Fur, a used fur coat store. On the other side of the street was a leather bag shop. We were the first new businesses on Prince Arthur, and we brought a lot of attention to the street. Then other shops started to open, and then the restaurants started opening up, (Greek restaurant) Demos being one of the first ones.
During the 70's Prince Arthur was really like a village. In the 80's they made the mistake of converting it into a pedestrian mall. But in 72 or 73, there was a nice grouping of used clothing stores, head shops, and there was still traffic on the street. When we first started hanging out there in 69 or 70, there were empty stores, old Chinese laundries, old Jewish tailors, and that's basically what it was. Mazurka was there (the long-running Polish restaurant which sadly just closed in late 2014), the Polish War Veterans' Hall was there, which is now Café Campus.
They're still in the building, but they owned the whole thing, the space where Campus is. It was a very fun time, and we drew a lot of attention to that part of town.
LR: Was there any kind of analogous place before that, some kind of hip area in the earlier 60's?
Larry: I would say that downtown around Drummond and Stanley, there were some bars. There was the Bistro, a very French place where you could get baguettes, and French wine— a fabulous hangout. But as far as a hip village goes, nothing came close to Prince Arthur. Because it was the late sixties and early seventies, that was what was apropos at the time, smoking and acid and hippies…