Working the door at the New Penelope with Allan Youster
LR: Do you remember the shows by the Peanut Butter Conspiracy?
AY: Ah! Peanut Butter Conspiracy, one of the worst bands that ever played the Penelope! Oh my God! They were horrible! From San Francisco, we were a little nervous. They were one of those bands—and I'm there every night—and the second night, it was exactly the same, note for note… We didn't even talk to them very much. They just came in and did that one show every night, but they were nice people, they were hippie-dips, so yeah! We took them. One of the better bands we had there was The Children of Paradise: Happy & Artie Traum, this guy Eric Katz… I got the poster and the 45 from the band… they were like a folk super-group that lasted for like 6 months.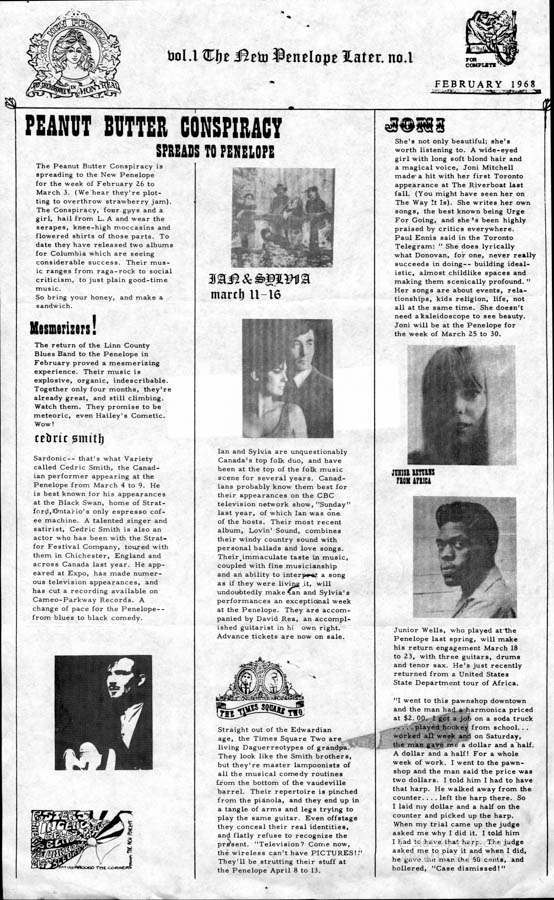 LR: Wasn't Happy Traum in Kaleidoscope?
AY: Yeah, yeah. Happy & Artie Traum, one was a nice singer and the other was an amazing guitar player.
LR: A west-coast band must have been a special visit…
AY: Very seldom. One of the traditions at the Penelope was, on the first night, which was Tuesday, we would go down to Chinatown to Sun-Sun Café and eat Chinese food with the band and the people there… we all know Chinese food… I grew up Jewish and we would do dinner #1 or dinner #2, but Sun-Sun Café, which is not there anymore, had 319 items on a a-la-carte menu. It was the first time I was ever introduced to this! And everybody would order a dish, and we would all pick off everybody else's plate. So, a band from San Francisco, taking them to Chinatown, we were a little nervous, even Gary, who I remember saying, "Gee, I hope they like it"… well, they raved about it!
LR: So, you were there for its last weeks, the final bunch of shows? Was there any sense that [its impending closure] was coming?
AY: Not really. I remember Gary called everybody together and, I mean, people were crying, the ladies were crying, and I was pretty much shocked because I had been kind of wrapped up in that place.
LR: As the door guy, you didn't see a drop in attendance?
AY: I wasn't a door guy then. I got a big promotion… At first we had Mike Bunting who did the kitchen and I did the door. Mike was doing more acid than I was, for sure. Friday & Saturday are big nights, the busiest nights of the week, and he didn't want to do it anymore. So one weekend there's someone else in the kitchen and it's not working out so good, everybody is a little pissed off. The next Friday or Saturday, there's someone else working for two days and that [too] is not working out. Gary comes to me and asks: "Would I like to work the kitchen on Friday & Saturday?" and I went: "How does that work?" He says, "Well, we get someone else to do the door, you'll work the kitchen." I did it Friday & Saturday. My pay went up from $6 a week to $10 for the two days and then the waitresses shared their tips with me: another 15 bucks. So this is a promotion! After that, they got a bunch of people to do the door—weirdos—but it never worked out, and I never went back to the door, Gary never asked me.
LR: Do you think that they were letting in too many friends?
AY: I could see that happening. But at that point, I don't have to pay for the show, I'm making more money than before, I could buy beer… I mean, this is good! With 40 bucks a week. I was doing great.
LR: One of the waitresses dropped a little line on the facebook group… I didn't manage to get a reply, but she seems to remember the nitrous oxide canisters and the giggles.
AY: I don't think we had nitrous oxide. The thing that people used to do is whipped cream canisters, but I didn't get a buzz! I thought that that was a little weird. You didn't drink or you didn't smoke when you were working in the kitchen. It was pretty intense. At best, there were 200 spoons, 200 cups—I remember at one time we were down to 150 cups—and there was the washing… I'm good at organizing, so I appreciate Gary for taking that little nerd at the door—who's just doing nothing…
LR: Tell me about New York City.
AY: I got to see Cream in New York. Going to New York was like Mecca. One time I went down with my friend Ed, got drunk one night and ended up going down there. We were there at Café Wha? And we're going "Jimi Hendrix!! Ah shit—last night—fuck!" Right next door to the Café Wha? Was the Café a Gogo and it's the Cream—tonight! That was the first tour and there was nobody there! I'm sitting there leaning back with my feet on the stage… with Eric Clapton in front of me! It's a small place, there can't be more than 25-30 people. It's not even like a third full. The story is, they're doing their set and it's great. They're doing their first album—it wasn't released in the States, it was released here and everybody is going crazy for it!—and they go into "Toad" and they go off stage, leaving Ginger Baker there doing a solo, and this goes on forever.
And he falls off the stool and is lying there. So they hear [that] it's quiet, they look back out and see him laying there, and they're sitting there talking to him, putting a cigarette to his lips… and we're sitting there watching this. He is white & red: white face and red around the eyes and he's over-amped for sure! That was like 10 minutes, but they pick him up, put him on the drumkit and finish the song, and that's the end of the first set. After a long break they actually play a second set. I actually have the menu from that night.
Back to Montreal—they're playing at the Paul Sauvé Arena, and they're booked to be the opening act. On the way out to [the place], they come by The Penelope and I'm at the door and someone says: "The Cream are out there!" I go outside and there The Cream in a limousine, the windows down and I'm looking at them and I can tell that they're not playing tonight… they are fucking WASTED! What we didn't understand was that the speed in Montreal was better than anything they had ever tasted, and they were FUCKED UP!! They couldn't play. It was pretty much sold-out because The Cream are big here, but The Rabble had to do the whole show. They were told that they can't play and you're it! I wasn't there because I was working that night. I heard later that The Rabble were a little nervous, but they played every song they knew and they gave it everything.
LR: Why was the limo at the New Penelope?

AY: I have no idea.
LR: This was a few months after you saw them in New York?
AY: Oh yeah! They were on tour, it was a long and disastrous tour because through the States, nobody knew them, and they were so fucked up!
LR: Speaking of The Rabble, did you see them live there or elsewhere?
AY: I saw The Rabble lots of times. Pimm has got a great voice.
LR: You didn't only go to The New Penelope, right?
AY: Well, at that time, I didn't like The Forum for shows, so I didn't go to many… [the sound was] terrible, terrible! I forced myself to go see Led Zeppelin twice and you could tell when they changed keys because the place vibrated differently… I saw Zappa in the early '70s, there again, the sound was terrible. One of the things about The Penelope, the sound wasn't that bad.
LR: Supposedly, Zappa was the first act to play two weeks or whatever when they moved to Sherbrooke Street.
AY: Yeah! He was the first act.
LR: Supposedly, he had them re-arrange the speakers and stuff right off the bat.
AY: I don't know but… I always remember that there was two in front, two on the side, and later on going: "Oh! That's how they do it!"