Working the door at the New Penelope with Allan Youster
LR: You were lucky to live in St-Laurent then, not far from the Bonaventure. It must have been quite a commute if you wanted to go downtown.
AY: Well… Here's a personal story, I was tall for my age then, five foot eight and a half, same as I am now since I was twelve or thirteen. Then at thirteen, they gave you a suit, for bar mitzvah. So to do anything back then, you had to be over sixteen. There had been that stampede in a theatre in the 20s (Laurier Theatre fire), even when I was a kid, you couldn't go to the movies. But I realized, if I wore my suit, I could go to the movies. So I was going downtown after school, I'd go see movies, hockey games. Standing room at the Montreal Forum was a dollar. I'd tell my mom, "Going to school," then go in the morning to the Forum, stand in line, pay a dollar for standing room. Get back on the bus with the transfer, back to school a bit late. I have to admit, my father passed away when I was quite young and I would get a lot of mileage out of that too.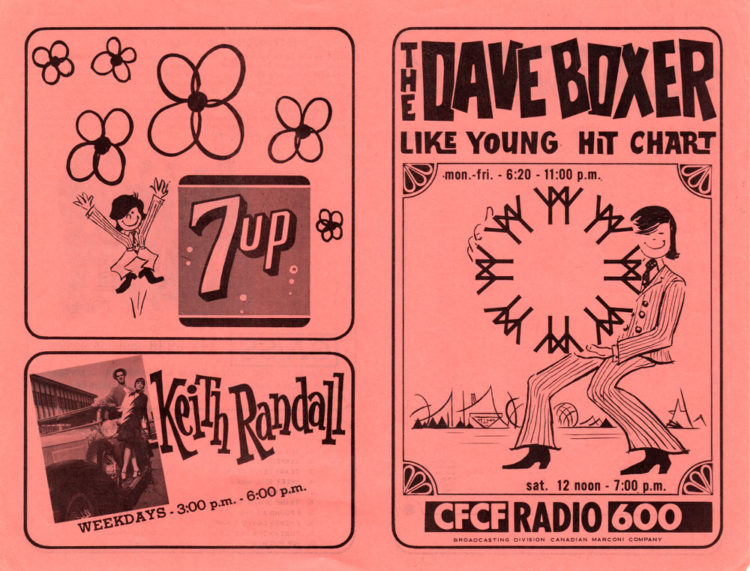 Then at night I'd go down and watch the hockey game. In high school, I had this thing where I was tall, remember, I looked older. I could get into strip clubs – my favourite one was one called the Metropole. It was across from Eaton's. You won't believe this, but they had live musicians, sax, bass and drums. They would play what you might call bedroom sax, and they were competent jazz musicians. I had discovered jazz, blues along with folk at the Record Centre on Crescent. There's a falafel place there now. That was Edgar Jones' shop, you could rent a record for 25 cents a week. There would always be college kids and stuff hanging around, so I'd start hearing about things, and I find out about the Penelope Café, on Stanley. That was next to the Stanley Pub, downstairs.
Upstairs was the Loon Rousse, a nightclub. I remember one time coming out of the Penelope late at night, and in front of the Loon Rousse a big Cadillac type car rolls up, four guys come out, they open the trunk and take out baseball bats and run into the place. My friend looks at me and says, I don't think a baseball game is breaking out in there. We got out of there. That was the Loon Rousse for you.
The Penelope on Stanley was very small. It was a folk club, you sat around wooden barrels, with plywood on it and a checkered tablecloth, on old tavern chairs. If you fit fifty people in there, there'd be no room to stand. My favourite bands I saw there were Luke and the Apostles, from Toronto, Sidetrack, and various folk acts. Sean Gagné, Willie Dunn, all the local folk singers played there. Willie Dunn was the first guy I ever did see play slide guitar with a knife. He was playing guitar, but I didn't realize he was carrying a knife… I mean, I've seen a glass, a bottle, but the knife …after playing, he'd put it back in the sheath and that was that! (laughs)
Gary Eisenkraft had a story about Bob Dylan, he said Shimon Ashe refused Bob Dylan at his folk club. Dylan went in on open mic night and did a set, the recording is out there (Finjan's 1962.) A couple of months later, Shimon gets a call, saying Bob Dylan was going to be in town. He could come to Montreal for a week, the price would be $800. Shimon is just about to go bankrupt, he says to Bob, "Sorry, I can't." So after Bob Dylan became famous, Shimon's story became, "I turned Bob Dylan down." How many people can say that?
The folk song clubs didn't work for that long. You do have the Yellow Door, but it was part of the campus. The Green Lantern, the Back Door in the early 70s on MacTavish and Sherbrooke, you literally had to go around to the back door of the building, it was in the Prince of Wales Court at McGill, which was later demolished. I saw the Reverend Blind Gary Davis there, on my wedding night in 1970. Saw Bruce Cockburn there at least two or three times.
When the Penelope moved to Sherbrooke St. in 67 (and became the New Penelope), it was exciting. The old place was small—when Sidetrack played there, they were six people, and they had two keyboards, one of them was a harpsichord. There wasn't a lot of room in there. I was unemployed. I was exactly 20 in '67. The Penelope had moved to the new place and needed staff, so I said "I'll work there." I was paid six dollars a week to do the door– a dollar a day.
Gary liked me because I'm anal and I worked the door honestly. People would offer me drugs, girls would offer me drugs and more, but in the end, everybody paid to get in. That's why Gary liked me– it was a business. Paying $2.75 was a big deal, this was for something like The Fugs… it was the top show.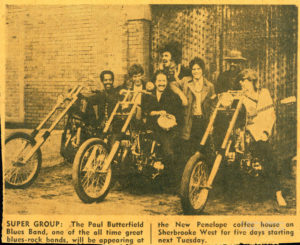 I worked 6 days a week, because we were closed on Mondays. But I was collecting unemployment insurance, $27 a week, I got $54 every 2 weeks. So with the $6 I earned at The Penelope I lived like a king– well OK, a poor king! But I got to see the shows for free.
Usually we'd stop charging in the middle of the second set. Most bands would play two sets, Friday & Saturday they played three sets and could go on past 1 am. I remember Muddy Waters, three sets for Muddy, and it was crowded, I mean 526 people there for his first set, those were the tickets sold – not including the band and their people, and the two cops who got in for free. I remember the cops drove up, they parked their car after the opening act, and I was at the door and they came in just to watch Muddy. Two cops standing in the back. I mean our capacity for the place, officially, was 155.
LR: Well Sala Rossa is similar, the official capacity is 200 but you can get 500 in for the big shows. Was it the same sort of size as Sala?
AY: No, smaller, we're talking jam-packed– we had a vestibule too so some people were in there, and Muddy was basically in another room, but it was a small place. The stage was no more than a foot or foot and a half high. There was no sign out front, it was only on the door.
Sidetrack were great, they were the New Penelope's house band. Now in New York, at the Café a Go Go, the house band was the Paul Butterfield Blues Band for six months, then Sidetrack took over. They were that good! Sidetrack were more like Butterfield on the first album, harmonica, straight blues, plus a jazzy component. The keyboard guy played an electric piano (Rhodes type) and the other guy played a homemade harpsichord. Their theme song went, "Let me be your side track — until your mainline comes." There was J.C. Lewis, short, curly hair, wore round sunglasses like John Lennon, played harmonica, great voice, drove a stripped-down BMW, wore leather. Died of throat cancer really, really young. The drummer was from Miami. The core of the band was from Montreal.
The other house band at the Penelope was Jesse Winchester. I was lucky to be there, he comes in with his guitar case, Gary's there. It was an audition. He gets up on stage, he has his nice white Fender reverb amp, he does Yankee Lady, Black Dog, and I forget the third song. Gary recognized a songwriter, and on his electric guitar he had the tremolo turned up high for "Black Dog" with that spooky thing. Gary says to him, "Anytime nobody's playing here, you're playing here. Anytime somebody's playing here, you're opening." Jesse later got hooked up with the guys from The Band. Every time he played there, he did another new song he wrote. He would write new songs all the time. He was one of those guys who—every time he came in—he would say: "I have a new song."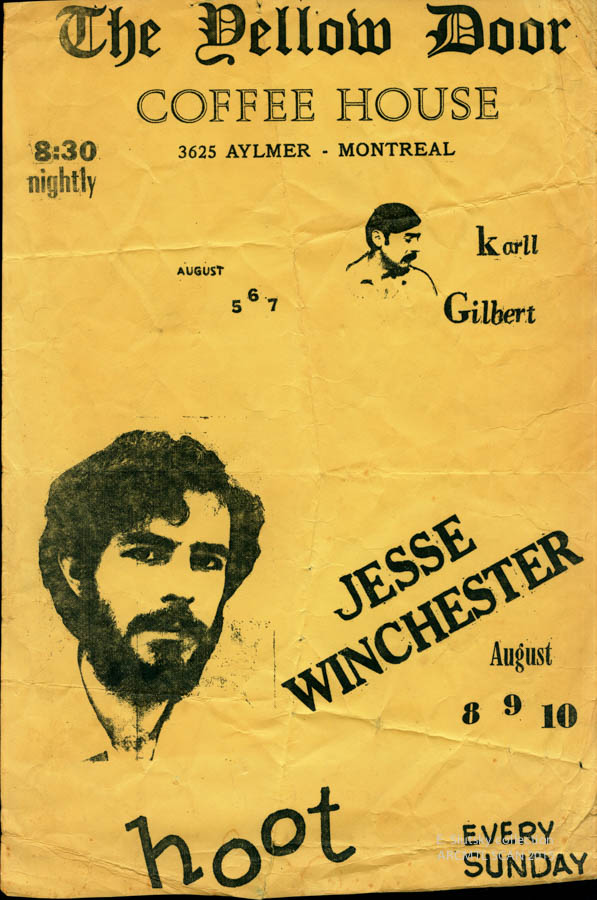 I saw Muddy at the New Penelope twice, Butterfield played twice, James Cotton played twice. Muddy… what a gentleman that guy was, and James Cotton, what a fun guy! The first time he came, he had Otis Spann on piano which was just incredible! Whenever James Cotton came up, he always brought a pound of grass, but would never take it back with him. Coming into Canada was a breeze, but leaving, you could never bring it back in.
LR: How much of the pound would he smoke? That's a lot of weed!
AY: They would come with a pound and be stoned all the time, be as happy as could be, and before he went back—they would just give it away to who was left… whoever was hanging around at the Penelope. You couldn't smoke pot inside the New Penelope. Gary would put up with none of that! Everybody went out, around the corner, but not inside the club. He was very nervous about that.
LR: What about that little field on the corner, Bleury Beach—could you smoke there?
AY: We'd go to Sherbrooke, at the bottom of Hutchinson. Right now there's two hotels there. There used to be a section of low, two or three storey buildings there. Next to it was the Swiss Hut, and then the Country Palace, which we called the "Cow Palace". Those were actually all owned by the same person and run off the same liquor license, because they had an adjoining door, but the Swiss Hut was hippie-dippies-motorcycle-druggies, and the other one was Country music… two different cultures so close together… and they didn't like the hippie-dips!
LR: That was an old cliché you see in Easy Rider, with the "good old boys" trying to beat up the hippies.
AY: It wasn't a cliché there. They tolerated us next door and around, but not inside the Country Palace: It wasn't the place to be. It was visibly hostile and physically hostile. It wasn't nice! I had long hair, a beard and you would go on a bus and sit down and people would move away from you… but it was OK, I didn't feel bad. I would actually move over and sit and see how far I could get people to move. It was just weird!
LR: So, the Swiss Hut was where between sets or even during a set at the Penelope, if you wanted to drink during a show, you would go over and order beers and then go and walk back in…
AY: Well, there would always be the fifteen minute break between sets, which was actually 45 minutes, some people would go out and have a cigarette, go in for a drink—they would chug them.
LR: You could have a smoke at the New Penelope though?
AY: Yeah, you could smoke… I'd forgotten that there were ashtrays that I had to clean… you could smoke inside, but not pot.