An alternative guide to 1974 Montreal: Montréal Insolite, pt. 2
Restaurants prix raisonnables, service rapide.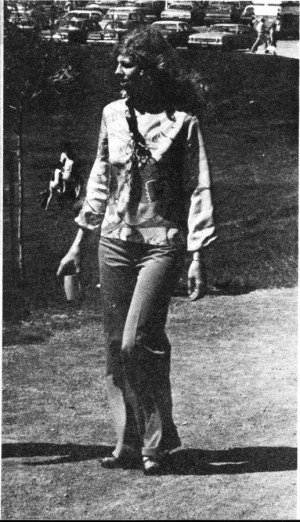 Da Giovanni
572 Ste-Catherine Est.
Les Montréalais l'ont véritablement adopté. Il y a foule tous les jours et les soirs de pointe, il faut faire la ligne. On y sert les meilleurs spaghettis de la métropole.
Le Sélect
Coin St-Denis et Ste-Catherine.
Nourriture robuste à des prix raisonnables.
Le Poulet Doré
St-Denis et Ste-Catherine.
Le meilleur poulet Bar-B-Q du bas de la ville.
Le Louvre
Papineau et Ste-Catherine.
Nourriture canadienne de qualité.
Howard Johnson
710 Ste-Catherine Ouest
1236 Ste-Catherine Ouest,
Excellents fruits de mer.
Smoke Meat
Dunn's Delicatessen
892 Ste-Catherine Ouest.
Ben's
1001 De Maisonneuve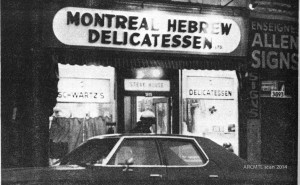 Ben Ash
1 Ste-Catherine Est
Steak Houses
Schwartz (Montreal Hebrew Delicatessen)
3895 rue St-Laurent.
Un restaurant qui ne paie pas de mine mais qui sert ie meilleur steak et le meilleur smoke meat en ville. Il est fréquenté par tous les Montréalais.
Moishe's Steak House
3961 St-Laurent.
Joe's Steakhouse
1459 Metcalfe.
Atmosphère chaleureuse. Steak très tendre.
Curly Joe's
1453 Metcalfe
The Barn Sider
2250 Guy.
Le Steak house qui a le plus d'atmosphère à Montréal. Cuisine excellente.
Alouette Steak House
1176 Ste-Catherine Ouest.
Restaurants chinois
Les meilleurs restaurants chinois du centre-ville sont tous groupés, rue Lagauchetière entre les rues Clark et St-Urbain. Ils seront cependant démolis bientôt pour faire place à un complexe administratif. A recommander.
Le New Lotus
Le Jade Garden
Le Jasmine
Le Sun Kuo Min
Le Cathay
Le Sunya Richska
Le Welcome
Ailleurs dans le centre-ville
Le China Garden
1240 Stanley
Le Green Garden
223 rue Ste-Catherine Est.
Hôtels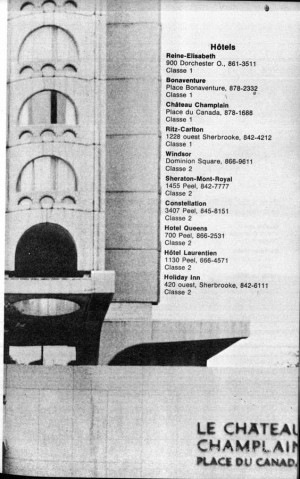 Quality Inn
410 Sherbrooke ouest, 844-8851
Classe 2
Berkeley Hotel
1188 Sherbrooke ouest, 849-7351
Classe 2
Hôtel La Salle
1240 Drummond, 866-6492
Classe 3
Seaway Motor Inn
1555 Guy, 932-1411
Classe 2
Ramada Inn
1005 Guy, 866-4611
Classe 2
Hôtel de Province
1494 Dorchester ouest, 861-7201
Classe 3
Colonnade Hôtel
1366 Dorchester ouest, 861-9064
Classe 3
Hôtel Colonial
764 Peel, 866-3324
Classe 3
Tourist Rooms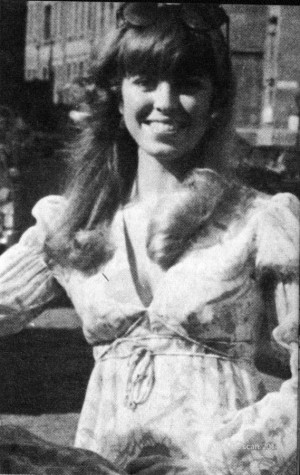 Résidence Hotel
847 Sherbrooke est
Argoat Lodge
524 Sherbrooke est
Hôtel Pierre
163 Sherbrooke est
Armor Tourist Lodge
151 Sherbrooke est
Manoir Shangri La
157 Sherbrooke est
Casa Bella
258 Ste-Catherine ouest
Château Versailles
1657 Sherbrooke ouest
Paris Tourist Room
67 Overdale
Grosvernor House
1198 De La Montagne
Manhattan Tourist
1237 De La Montagne
Auberge Chez Bébert
4109 rue St-Denis
Discothèques
Le Rallye Club,
1469 Crescent.
La boîte la plus huppée du quartier, pour y entrer il faut montrer patte blanche et porter veston et cravate.
Thursday's,
1449 Crescent.
Une petite boîte intime avec terrasse doublée d'un excellent restaurant.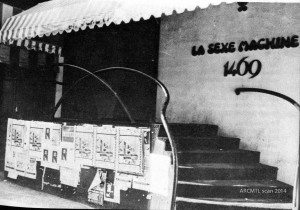 Sir Winston Pub,
1459 Crescent.
Une boîte typique du quartier.
La Barraka,
1429 Crescent.
Une boîte marocaine ou on peut boire le meilleur café à Montréal.
La Sexe-Machine,
1469 Crescent.
C'est vraiment la boîte de la rue Crescent. La décoration y est pour le moins insolite tout comme le mobilier. Et les serveuses ont les seins nus. C'est le seul endroit qui a réussi ce tour de force à Montréal.
Le village de la rue Crescent.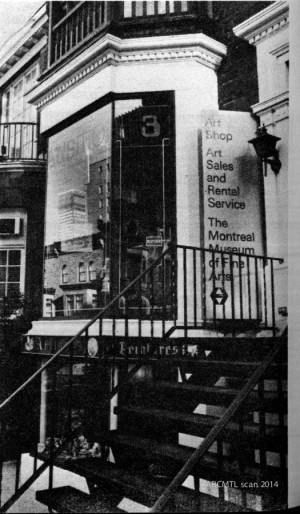 La rue Crescent est en train de devenir le Yorkville de Montréal. Les petites boutiques de luxe y poussent comme des champignons et viennent s'imbriquer parmi les discothèques les plus fréquentées. On peut s'amuser durant de longues semaines rue Crescent. On peut trouver de quoi satisfaire tous les goûts.
Le Tacot,
1010 rue Bishop.
Une petite discothèque intime très intéressante.
L'Annex Disco,
1441 rue Bishop.
Une terrasse recouverte de bulles de verre ou l'on peut causer et bien s'amuser.
Dominique's,
1455 rue Stanley.
La discothèque la plus chic du Centre-Ville. On y trouve des filles racées, de la meilleure société et l'endroit est bondé tous les soirs. A ne pas manquer.
Le Harlow
1285 De Maisonneuve.
Cette boîte de classe est la propriété de Rodrigue Gilbert, joueur étoile des Rangers de New York. C'est le rendez-vous de tous les sportifs de la Métropole.
La Casa Mexico,
1448 Peel.
Seule boîte de type mexicain à Montréal. Excellents musiciens.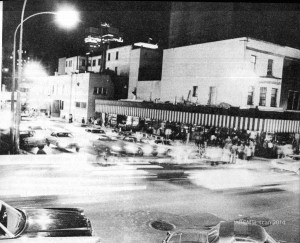 John Bull's Pub,
1201 de Maisonneuve.
Un des nombreux pubs qui poussent un peu partout dans l'ouest de la ville.
Le Sabayon,
666 Sherbrooke ouest.
Excellent restaurant grec ou on peut terminer la soirée en dansant le "bouzouki". A ne pas manquer.
Tiffany's,
2045 Crescent
Magnifique petite boîte très bien décorée. Atmosphère calme et sereine.
Oliver's,
1400 rue Crescent.
Discothèque ou l'on "swinge" jusqu'aux petites heures.

Don Juan
2022 A rue Stanley.
Excellent pour le dragueur habile.
Cafés terrasses.
Deux immenses cafés terrasses forment une espèce de frontière, boul. de Maisonneuve. Au coin de la rue Crescent, c'est La Casa Pedro. Coin de La Montagne, Chez Bourgetel. Ils sont tous deux également fréquenté. C'est l'endroit où l'on cause le plus à Montréal. On y rencontre les plus jolies filles.
Club de nuit, discothèques, etc.
Hôtel Jacques Viger.
1254 Saint-Denis
Il y a trois établissements dans ce complexe. La Cave des Moines, un pub et un cabaret avec spectacle. Atmosphère typiquement canadienne-française.
La Porte St-Denis.
4596 St-Denis.
Cabaret typique du quartier. Spectacles mettant en vedette les artistes canadiens.
Le Caprice.
4585 St-Denis.
Spectacles parfois intéressants et originaux.
Le 321
321 Ste Catherine Est.
Danseuses à gogo, topless.
L'Abitibi.
251 est, Ste-Catherine.
Danse tous les soirs au son d'un excellent orchestre. Cet établissement est appelé à remplacer le célèbre café St-Jacques fermé depuis quelques semaines pour faire place à l'Université du Québec.
Le Saguenay.
984 St-Laurent
Spectacles de travestis.
Le Rialto.
1217 St-Laurent.
Spectacle de basse classe.
Le Lodéo
St Laurent et Lagauchetière.
Petit spectacle et bière à bon marché.

Le Casino Gaspésien.
316 Ste-Catherine ouest.
Spectacle style Western québécois avec les meilleurs artistes du genre. Le rendez-vous de tous les Gaspésiens qui habitent la Métropole. Bar typique du quartier.
1680 Ontario Est.
Normalement de bons artistes tiennent l'affiche. Bar typique du quartier.
Le Café Provincial.
1165 St-Hubert.
A cet endroit il y a une immense salle de danse ou les femmes se donnent rendez-vous l'après-midi. Au dessus, une discothèque huppée, le Lover's, ou les Montréalaises de l'est vont s'amuser les fins de semaine.
Le Vieux Munich.
1170 St-Denis.
Une immense salle de spectacle qui est en même temps un immense restaurant. On y mange une nourriture robuste de type allemand que l'on arrose avec une chope de bière. Pour faciliter la digestion, on peut danser dans les allées au son d'un orchestre bavarois. Un endroit à ne pas manquer. On s'y amuse ferme.
Le Rockhead's Paradise.
1252 St-Antoine.
Le temple du "SOUL" music à Montréal. En bas au Paradise Lounge l'excellent trio de jazz d'Yvan Symonds. Le rendez-vous de tous les noirs de Montréal. Un endroit d'un caractère spécial et qui se remplit à craquer toutes les fins de semaine.
L'Hôtel Colonial.
764 rue Peel.
Danseuse à gogo et striptease.
Le Shack
1200 Ste-Catherine Ouest.
Une immense discothèque fréquentée également par les petites noires et les petites Canadiennes. Musique de qualité, rythmes endiablés. A l'avant une excellente petite boîte ou le streaptease est à l'honneur. Du côté nord de la rue Ste-Catherine on peut voir l'ombre des artistes qui se trémoussent dans la vitrine.