An alternative guide to 1974 Montreal: Montréal Insolite, pt. 1
THE LITTLE LADIES…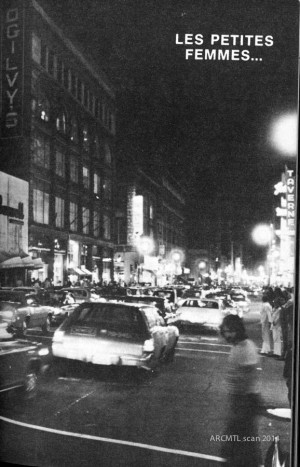 "Driver, do you know where I can find women?"
"No, F… Drapeau shut down the city!"
Nothing works anymore!
In every city of the world, if a guy wants to have "fun," he can ask a taxi driver and he will show him where to go.
In Montreal, this system is no longer working and it hasn't for quite some time…. besides a few specialists who "work" the downtown area and are motorized, licensed "pimps" by the city, you have to be really lucky in order to find a taxi driver who will refer you to what the law calls "a bawdy house!"
However, this doesn't mean that it's impossible to have a good time in Montreal! Far from it… It's just that the methods are different now.
If you have the good fortune to be housed in one of the big hotels in the city center, a generous tip to a good hunter or a good bartender can easily open doors. Some of these gentlemen are very discreet and they know the telephone numbers of the most famous "call girls" of the metropolis. You have to discreetly reveal your licentious intentions and be willing to pay a small fortune. Then, you will be entitled to a girl you'll bring to a fancy restaurant …. and by the end of the evening, she will land in your bed, if you so desire. The prices are $200 to $300 for the girl … plus a few hundred dollars for dinner and champagne – which is not within every budget!
If you know how to haggle and if you seem nice, you may be able to convince the girl to receive "your homage" for $100… but never for less. But, you may risk that she makes love reluctantly and wishes to finish you off in less than 20 minutes! These are spoiled girls… they like to be treated like queens. They only "do" three or four clients per week… but these gentlemen must be willing to pay the top price.
Obviously, the average person can not afford such girls… just like the average person cannot marry a Gina Lolobrigida, a Brigitte Bardot or an Elaine Bédard! With a little persistence, an hotel concierge can refer you to cheaper girls… In such cases, the normal rate is 50$ for an hour. These are the usual methods of operation… everywhere in the world!
In a few downtown bars, it's possible to get a reasonable girl who will be happy do to it. In such cases, the usual rate is $35 to $75, depending on your tastes and requirements.
At these locations, or on the streets, it's also possible to meet a pimp who will be happy to arrange things for you. In every city of the world, it works that way… In Montreal, such operations are conducted with extreme discretion because we fear the police a lot! Especially in bars… where we play with the law.
Interestingly, the big hotels are exempted from such police pressure. And from memory, we can't recall a case where a concierge or a bartender was accused of directing a client to a bawdy house! These standard methods, however, are outdated to anyone who knows their way around– Montreal offers much more interesting adventures.
In the city center, there are many nightclubs frequented by girls with welcoming thighs, who do not hesitate to make love for hard cash.
In some institutions, one can find everything… professionals who make discreet solicitations; easy girls who want to make some extra cash; the nymphomaniac needing a new adventure etc. And with a little luck and some charm… we can get some just by paying for the drinks…. and a nice bite to eat at the end of the night. But this is more the exception than the rule. The visitor who's only in Montreal for a few days cannot seduce a beautiful girl and make her give in to your sexual advances. Unless you are a born seducer! This is far from being the case for most males. Therefore, we must be ready to pay. Fortunately, there are classified ads in the Montreal-Matin, which aren't expensive to buy and offer interesing results.
In fact, in recent years, our beautiful Montreal girls, advised by brilliant lawyers, found a foolproof way to bypass the law… and even offer their services through advertisements in newspapers. And those who carefully place ads in Montreal-Matin's 720 section or the Journal de Montreal's 812 section can have fun for weeks.
Too often, we're unaware that prostitution isn't illegal in Canada. If that was the case, the mistresses of our businessmen and mini-skirted secretaries who are easily seduced by their bosses would get into trouble. What's clearly illegal is soliciting and running a bawdy house. Intimate exchange between a man and a woman, in the secrecy of the alcove, are not the law's business. Some girls were quick to take advantage of this loophole by launching a massage service in their homes, at the hotel… or at a motel. The client who goes to a motel, rents a room and phones… the masseuse who comes right away. The price for a massage is $15 and you only have to show the girl a few bills for her to drop her mini-skirt, panties and bra and to massage you with other muscles than those of her hands.
MASSEUSES, HOSTESSES, ESCORTS AND CLIENTS …
Unfortunately, this method wasn't so well developed and some girls were accused of practicing the profession of masseuse without a license. They had to pay a $10 fine.
Soon the masseuses turned into hostesses, escorts or "tour guides." This new method of operation has a huge advantage… The client can now choose a sweetheart that would show him around Montreal! You simply have to phone the agency and you'd immediately be invited to tour the place in order to choose the one you'd like to have as a guide. The official rate is $15 for two hours and this amount is to be paid in cash to the representative of the agency. Then you would make an appointment with the young hostess… which would easily follow you to the next motel where, for $35, would spread her thin legs and let nature take its course… (1)
For those looking for the unusual, some of these hostesses will agree to invite a friend that you will have to pay for, of course, and then you'll know the delights of a threesome… in all its variations! Currently, in Montreal, there are at least four agencies of this kind that employ ten girls each…
Notably, most of our girls are fans of French lovemaking and for the same price, they will use their rosy lips to bring you straight to cloud nine…
Our "businessmen" haven't forgotten the voyeurs… specialized studios in full nude have been established. In this area, the models are particularly beautiful… and they know how to strike lascivious and provocative poses. However, there's nothing else you can do other than take pictures… at least in the studio. It costs $20 for eight photos in black and white, and $25 for the same number of photos in colour. For that amount you can spend nearly an hour in privacy with the model who will let you gently touch, but no more.
However, there are several variants; in some studios, they practice the "happening". You can paint at leisure on the naked body of the model… or the girl can press against your body for a lascivious dance ending with a wild go-go dance. Generally, however, there won't be any love-making in the studio. This practice is strictly prohibited by the bosses of various clubs… However, it is quite easy to make an appointment with the girl and invite her to dinner once she has completed her work. Then you just let nature take its course… while helping her out with some quick cash.
If you come to Montreal by car, you will quickly realize that there are many opportunities with girls who are hitchhiking. In this case, however, beware because while some are always ready to go further, others don't hesitate to shout "police." In principle, we only have to stop when the girl looks older than 18 and has her thumb out… In such a case, there is at least one chance in a hundred that the girl is a professional who will willingly accept any decent proposal!
The best times for hunting are either the mid-afternoon or early evening in the city center… For such expeditions, Sherbrooke Street between Atwater and Papineau is especially recommended… We can also hit the jackpot in the neighbourhood of Côte-des-Neiges. Or, Saint Denis Street near the Square Saint Louis but beware of little hippies who only want to go as fast as possible with their lover of the moment. With them, there's nothing to be done… apart from a short chat.
Recently, several girls, well aware of modern techniques, decided to launch a motorized operation… This is a subtle method of soliciting with very good dividends in return… To do this, they circulate by two in a small and fairly discreet car… and spot clients who are walking on the street… Just throw them a discreet glance while the car is immobilized on a street corner… If any of the girls answers you… it's time to dive. You even save on the price of a taxi because the girls will take you directly to their love nest.
(I)
NB. In Montreal there are bona fide escort agencies that advertises in Montreal-Matin and the Journal de Montreal. Do not immediately jump to conclusions… and know how to read between lines.
In 1967, Pierre Elliott Trudeau, then Minister of Justice, single… and the apparent heir of Lester B. Pearson, had a brilliant idea. It was time to get the Forces of Order, the Peace Guardians and Protectors of Public Morality out of the honest taxpayers' bedroom. And to do this, he created the Omnibus Bill.
While reducing the burden on poor little "bitches" who had forgotten their pill by legalizing abortion to some extent, he gave all forms of homosexuality rights.
This bold decision was greeted with great joy amongst the third sex, who could finally leave the painful secrecy they had been confined to since time immemorial.
Almost immediately, little flowers began to grow here and there… in every corner of the metropolis. Transvestites now had the right to circulate in broad day light without attracting police, or be the target of repressive gestures by their natural enemies… people "called" normal.
Montreal quickly became the capital of the "gay" people in America. It was the only place, below the Atlantic ocean where homosexuality was legalized. Homosexuals from New York, Chicago, Boston, visited to finally live free and legally… for a few days or a few months, at least. Free of the fear that always hung above their heads: police raids!
Almost as quickly, specialized institutions where homosexuals felt at home and that were almost exclusive to them sprung up.
The third sex has its strict rules… and we play the game of love and chance the same way the so-called normal world does it. But in our modern world… in our "sophisticated" civilization, can we say what is normal and what is abnormal? This philosophical debate could get us into a deep theoretical discussion that wouldn't fit well with the present exposé. From a practical point of view, that's another story… An old song says that "all tastes are in nature" and that it's up to everybody to make their own choice!
Is it more normal to experience sexual ecstasy through the lips of a 16 year-old virginal nymphet that practices the art of the "fellatio", or through the oral ardor of a young Adonis well versed in the very specific techniques of oral stimulation? Both are equal when it comes to the physicality of sex. The difference is intellectual; whoever is ready to accept women's caresses, would rebuff if it's coming from a male partner!
Within the third sex, however, the love game is played the same way as between man and woman. We flirt with excess, we go "hunting", we go to bars to find a partner willing to share the more or less nuptial bed.
An unbreakable rule is to not play with people's partners! Indeed, homosexual couples being particularly volatile, jealous eruptions are frequent and terrible. Also, it's recommended to proceed with discretion, especially in a first foray into this special world.
Too often we imagine that homosexuals are effeminate who can't take care of themselves. This is a common error. Because we find some of the strongest men of the metropolis among them! Do not trust appearances… Whoever plays it cocky can expect some nasty surprises.
For who minds his own business, the gay scene is surprisingly calm. In specialized establishments, there are no fights, except when an "outsider" cracks some unsavory mockeries. Indeed, it's very frowned upon to pass incongruous remarks on the attitudes of people in the community or to attack the "grandes". The "grandes" are indeed the "little darlings" of this separate world. And they enjoy unusual protection. Some of them are prostitutes as beautiful and wild as the other prostitutes and it happens often that some perky guy gets the work done by a "grande", paying for an hour of love without suspecting that the lovely Christine he has his arms wrapped around was named Raymond a few years ago.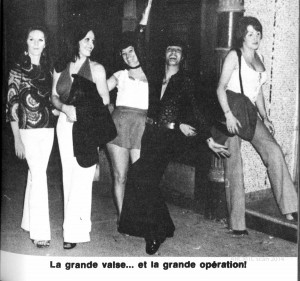 These "grandes" used to be able to operate with much more ease since the law had completely forgotten them at the time of the leglization of homosexuality. But, alas, they have since been addressed.
The laws governing prostitution dated back to the Victorian era and prohibited solicitation, vagrancy, bawdy houses and all forms of pimping. Legally, a girl can also sleep with a man for a predetermined amount of money without being troubled by the agents of Morality.
Not too long ago, the law only referred to girls… No mention of homosexuals or transvestites. So solicitation was only illegal for girl prostitutes who were required to give a satisfactory explanation for being present in a public place if asked to.
In popular language and in practice, it meant that every time an agent of Morality saw a prostitute in a public place, he could pick her up unless she had a perfect excuse to be on the street or in bar.
A male prostitute, even in a skirt, was free to run around and solicit clients wherever he wanted without ever being bothered by the law.
This anomaly caused serious problems for the Morality police who was responsible for maintaining good morals and public decency. Even those gentlemen who are specialists in the field got fooled and arrested frisky streetwalkers… only to find out that they were good old boy transvestites, against whom no charges of vagrancy could hold… legally at least.
A brave municipal Crown Prosecutor even tried to convict some transvestites as "prostitutes" arguing with skill and distinction, but without success, that the normal male population could not raise the skirts of all the girls on the street for a sex verification.
A few months ago, however, the Canadian government changed the law and removed any reference to the night walkers that are simultaneously prostitutes. Now it's the direct solicitation that is prohibited. And transvestites are found on the same footing as these young ladies of easy vrtue.
Even the sex verification may be as ineffective since the advent of the "castonguette", many surgeons have carried out this great operation! It is said that it's practiced in some Monrteal hospitals.
Several beautiful young men have lost their penises to a skillful knife in this way. Surgical aesthetes have created beautiful artificial vaginas that dream to host the "you-know-what."
As for the bouncy and firm breasts of our beautiful dolls, there is silicone injection… well supported by female hormones taken in almost industrial quantities. In the hands of a skilled surgeon, you can't tell the difference. Especially if the subject has been able to develop tendencies at a very young age! So the gracious girl in a miniskirt who looks at you the corner of St. Catherine and St. Lawrence may well be a young transvestite who had or not the great operation!
Many of these "grandes" managed masterstrokes of luring some of our most manly Don Juans… without them doubting even for a moment that they were dealing with a transformed male. Moreover, several transvestites gracefully practice the profession of topless gogo dancers and their shapely breasts could make their female counterparts that are less well off blush from shame. Some "grandes" are even more feminine than women and they play the game so well that only an experienced man can discover the ruse.
At ten, Raymond preferred playing with dolls rather than playing baseball with his friends, something that greatly despaired his parents. At fifteen, an older man seduced him and since then, he swears by masculine love only. Psychologically, he's a real woman. He has a strong taste for playing the housekeeper and is only happy when he wears women's clothes. Four years ago, a friend told him that he could receive hormonal injections from certian doctors… He went without hesitation and after a few months, he began to wear a bra, not by taste but by need. Using silicone injections, he improved his chest, so that today, he wears a 38-D bra size and he completely fills it up. Meanwhile, he let his hair grow, and today, they are to his shoulders… Raymond is very small, tiny even. It has a narrow waist and virgin hips. A year ago, he went for the big operation… and now he has a tight little vagina which greatly pleases his lovers. For years now he's called Brigitte… and no one remembers that not so long ago, he was making a lot of girls turn their heads.
Physically, Brigitte is absolutely frigid. The multiple operations she undergone for her conversion have completely destroyed the nerve ramifications in what she calls her little "love ball." Sexually, she knows the psychological ecstasy when a fellow male hold her tight during lovemaking. She climaxes when she can use her bold lips to engage in stylistic and rhythmic caresses. Brigitte is a topless gogo dancer… she has lovers in every corner of the Belle Province and most of them still believe that the beautiful Brigitte is a girl. Brigitte also prostitute herself almost every night. For her, that's a second nature since she looks for the masculine touch almost morbidly… In the arms of a man, she feels at home… in her element. In life, Brigitte is alone. Her lovers change at a fast pace so you would think she is fickle! This is not the case. She has a very hard time keeping her men. She loses them to other "grandes" or to young guys with near-virginal anuses!
Brigitte is the typical transvestite… there are hundreds of them in Montreal… Meanwhile, there are thousands of "grandes" who are not transvestites but that have long hair and dress with a certain sophistication. These "grandes" have steady jobs and don't really change when they go out at night.
The "grandes" and their friends go to specific places, mainly in the area between Saint-Laurent, St-Catherine, Dorchester and St-Denis Street. And it is always surprising to see a beautiful mini-skirted girl boldly entering one of the taverns in the area.
Later in the evening, we find them in licensed establishments on Saint-Laurent, the busiest in town. Every night, the cabaret features transvestites and we can admire the best show of its kind. Besides, every night, there are crowds and fans are advised to book their tables, if they wish to attend, especially on weekends.
In the West, the third sex is found on Stanley or Peel Street. In most upscale nightclubs west of the city, the third sex is very welcomed but access is prohibited to transvestites. Custom is that a homosexual pairs with a beautiful lesbian to go to these places and each go hunting their separate ways.
In the early morning hours, the "grandes" from the east and the "grandes" from the west converge with their friends at specialized clubs that stay open all night. Only coffee and soft drinks are sold and at a high price. But the atmosphere is very special, the music is of a surprising quality even if a bit loud, so don't miss out, go have a look.
An experienced traveler who really wants to know Montreal does not hesitate to visit these special places that offer an original facet of our great city. If you behave like a gentleman, you can do it safely. You must not forget that people of the third sex are not animals locked in a zoo, but humans with human reactions. If you do not want to be up by a transvestite, no one will bother you as "grandes" are very discrete and do not force anyone to buy their favours.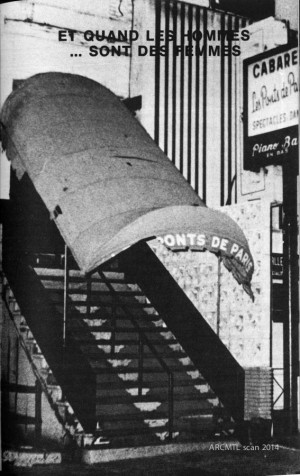 Just like homosexuality, lesbianism has existed since time immemorial… The cult of Lesbos indeed flourished in ancient Greece and each century had a period when women frequented women.
Montreal isn't an exception to this tradition and friends of Fémina are legion. In fact, before the recent amendments to the law with the Omnibus Bill, the "thing" was much easier for lesbians than for men with unusual inclinations. Lesbianism is firmly rooted in our nocturnal habits!
Indeed, law enforcers never invaded the bedroom of the ladies… to accuse them of gross indecency or something of the sort. We always thought that two girls sharing the same bed, that circulated in the streets, embracing, that they danced together in nightclubs or that they tenderly kissed when they met as something normal.
Such an open-minded view is surprising for a puritanical society rigidly stuck between the dictates of religion but it allowed Lesbos to have citizenship long before the males could enjoy the same privileges.
As surprising as it may seem, a large majority of women have tasted it with more or less intensity at some point of their lives. Unlike young people for whom homosexual experiences are normal, lesbianism is a far more disturbing experience. For men, homosexual contacts are mostly the result of a search for the new in early youth, it's the normal outcome of a curiosity and discovery of strong and inexplicable emotions.
In women, it's a different story… Lesbian contacts are mostly the result of an innate need for tenderness… coupled with the fear of males and of the dangers of normal contacts. This was a big factor before the advent of the pill that has had a clear liberating effect on the sexual behaviour of young women. Especially considering that the bonus for virginity is now an illusory thing.
First, let's clearly establish the facts of this problem, 70% of prostitutes in Montreal are genuine lesbians… with tendencies more or less pronounced. This is understandable. These ladies receive so many tributes from men that for them that the trifle has to be something else. Professionals make it a point of honour not to have an orgasm with a client… Otherwise, it would be cheating the game. They save themselves for their "gigolo" or for their little "butch" who more often, plays the role of the pimp with more force than a male pimp.
Also the thrill seekers will have no trouble convincing their one-night lover to attend a three-way "party", on the condition of paying the price. For the professional, this is a pleasant entertainment that allows her to finally relax. And as "butches" are thoroughly familiar with all the intimate secrets of the female body, "they" excite the girl at the highest point, so that when the customer decides to join in, the partner is well heated and gives a better return than usual.
Organizing such an orgy is very easy! You only have to have a few words with the contact person and it's in the bag. Unfortunately such orgies take up a lot of time so the cost is quite high, varying between 100$ and 200$ for three hours of fun. It's up to you to decide if that's worth it or not, in your quest for the new.
However, the milieu of prostitutes is only a small part of the lesbian world. The majority of them are found in your surroundings where we meet couples of a surprising stability… although over time, the one that plays the role of the women tends to want to become more active and often turns into a "butch". Indeed, we witness what is called a "combat of supremacy" within the couples… The woman strengthens and tends to dominate her partner who was playing the role of the aggressor in the beginning of the relationship. Such a fight ends mostly with a breakup. And the girls go hunting their own way.
However, hunting grounds in Montreal are very limited… and the access is normally prohibited to males looking for a new spectacle. In order to enter into these ladies' sanctuary, you have to show some redeeming qualities… But if you can convince a lesbian to have sex with you even if you are of the opposite sex, you will be welcomed with open arms, on the condition that you're discreet… and have absolute wisdom.
The ladies and young girls do not need a guide– the new recruits are always welcome in this exclusive environment. One tip though, avoid "flirting" with excess, because nothing is more dangerous than a lesbian seeing a rival flirting with the love of her life.
Not too long ago, one of them "carved" the breasts of a rival with a knife whose glances were too bold and it took more than 90 stitches to complete the work. Another was beaten up with an iron bar for daring to defy the queen of the community. But with some caution, these young ladies who love petting little pussies can roam in the world of Lesbos with impunity and make conquests.
In this environment also exist frivolities. And a wise lady can easily pick up a nice girl with a small gift. Sex has a price at all levels and in all areas.
Of course, there are also the mass lesbians, impossible to identify. They look like normal women and nothing distinguish the "butch" to their female partners…. apart from aggressiveness or a more or less protective look and lightning in the eye.
Twenty years ago, the city could have been considered a pure city, even though brothels or other houses of the same type were operating in plain sight. The vicious Montrealer was kept within very precise limits. And by closing the City completely, municipal authorities were in fact opening its borders. As paradoxical as it may seem!
In the era of brothels, there were very few orgies. Our horny guys had regular sex without too much variation. Since then, it is a different story. And the world of orgies is growing to a surprising magnitude to the point of being a world of its own now, well defined, with many followers willing to try all possible and unimaginable experiences! This world, however, is not very accessible… And the tourist who wants to be initiated without any preparation, risks heavy disappointment. Indeed, proponents of such practices remain a tiny minority and do not allow untimely interference in their activities.
The hardest part is still the first contact but in small Montreal-Matin ads – the most productive and safest sex ads – we can find the names of certain agencies looking to make contacts. But you have to book in advance.
In this separate world, as in any society, there are well-defined rules of conduct. The solitary man cannot cross the borders of this special milieu… unless you're a particularly attractive young Adonis. A girl or young woman has a much greater chance of success because threesomes are still very fashionable. In such cases, the girls should be prepared to accept the homage from women and men… And they even must be willing to reciprocate! However, this remains the exception and the current "normal" practice if one can use that term, is the meeting between two and even three couples!
If the visitor comes from outside of Montreal, the lady will have to agree to be part of the trip in the first place… then to the orgy, which is not easy in any case. If the lady does not have any complexes, the thing will be much easier; otherwise, it will be necessary for the gentleman finds a partner… and a good excuse. These small orgies normally end in the early hours of the morning and participants are in such a state of fatigue that it's necessarily to have a good eight-hour sleep to get back on track… and to start the sexual touring of Montreal by night again. To find a willing partner is not easy and it is absolutely necessary to fall back on professionals if your lady is not ready for the big adventure. In this case, it may be very expensive… because time is precious for these young ladies… but for a hundred dollars, you will find a girl who has all the time and is ready for anything, providing it pays.
Note that if two horny guys want to organize a small personal orgy, this is much easier. Our prostitutes do not hesitate, for a small fee, to give a little special "show" where they mutually arouse each other. On the male with male side, the thing is just as easy to organize. We are talking about genuine orgies here, not elaborately-organized artificial parties. It is not organized entertainment but planned "orgies" where money has no part to play.
Also, you should advise your partner, if she's a professional, that she shouldn't say she is but rather play the role of your wife. If it's your wife or your girlfriend… she has to let her imagination run. In fact, these orgies essentially consist in "wife swapping," well known in the United States, but with all the variants that we want to add to it.
When you enter this special world, you must be ready for everything without restrictions (or nearly). For it is obvious that two women will caress each other under the stare of their partners… and it will happen that the two males will also have contact with each other, all ending in a frenzied Saraband… side by side, between all partners.
However, once you've entered this closed-off world, everything becomes much easier because the contacts multiply with surprising speed. All dirty-minded people know each other.
In parallel, what can be termed "spontaneous orgies" also exist. This kind of orgy is born out of chance encounters and ends just as quickly as it began. The mountain is particularly conducive to this kind of meeting. On both slopes of Mount Royal, you can find couples willing to engage in all kinds of experience. In the remotest spots, one finds those with homosexual tendencies. We can even infiltrate the groups that lead a community lifestyle at all levels… on the condition that you smoke some marijuana cigarettes or hashish. But this is a different story and a different world, which we will study in the next chapter.