Francois Dallegret on Expo 67, Le Drug and the New Penelope Café
Francois Dallegret
is a Montrealer by adoption who made a name for himself as a
designer and architect
in the mid 1960s in part through his design work for Expo 67. He also organized the infamous
Super Party
, the "underground" opening party for Expo 67 that featured such wild acts as Tiny Tim and Lothar and the Hand People. His involvement in the arts and music scene also included designing two very important clubs in downtown Montreal at the time, Le Drug and the New Penelope. The following interview took place in Dallegret's back yard in the fall of 2015 with Louis Rastelli, Research, transcription and translation assistance: Maia Djambazian and Alex Taylor.
LR: In an article written by Juan Rodriguez about your 1967 party, we learn that you arrived in Montreal in 1964.
FD: Yes, that's right. When I left France, I do so with just a suitcase, I didn't have any intention of ever returning to France. That was in 1963 in fact. I had gone to New York first, for 9 months, and afterward I came up to Montreal. I didn't have any intention of returning to France. I found the French to be very troubled. And nothing was happening in Paris. So, after art school, I boarded a ship and headed to New York City. It was fantastic!
LR: Was there a specific reason that you left NYC for Montreal?
FD: Well, I didn't have much of a choice, I had to go, I had to leave the USA. My visa had expired. The choice I had, the ONLY choice really was to go to Montreal! In fact, there were people in Montreal that wanted me here because Expo 67 was just starting up. So, I arrived here and formed a four-person team, and we worked on Expo 67. At first, we each had a segment of the project. And my responsibility was to make pinwheels. We made them so that they were illuminated when they spun in the wind. It was within La Ronde. In Fact, at first, I wanted to invent a new La Ronde, a new amusement area, a new environment. Without much architecture, with inhabited spaces, etc… A sort of vision for the year 2000. However, unfortunately, we arrive too late for all that. The contracts were already signed, construction was already underway, so for each of them, there was already a manner to which we could create each element. One of our partners made kiosks. I made wind-driven works. Norman Slater did the lighting, and so on.

LR: So that contract allowed you to settle down in Montreal?
FD: Absolutely, absolutely. It was fantastic!
LR: Prior to that, you had a contract to design the interior of Le Drug…
FD: That's right, in 1964. I had met Bill Sofin, who was a pharmacist and already had two or three pharmacies in Montreal. He wanted to create another that was very, very different. I met him because I had delivered something a mutual friend had given me in New York, a scarf of something like that. And so, he gave me the contract for Le Drug. So I did everything, I did the interior, the exterior and the graphic design.
LR: It was a really far-out place?
FD: There was unique, there was nothing else like it, that's for sure. It was fantastic! It was later covered in all sorts of architecture magazines.
LR: You're lucky to have found such a client, I'm sure not most clients were as innovative.
FD: Well yes, that's true and quite rare. And apart from being in the middle of construction when I left New York, unfortunately, he did hire someone else (laughs) that had planned on taking my designs, and do something completely different. Then I came back, and then I bitched him out, and told him that he couldn't do that. So he gave it a second thought, and we continued on, and everything went well. It was on de la Montagne Street, between Sherbrooke and de Maisonneuve Street. And now there's absolutely no trace of it, nothing remains. There was a restaurant in the basement, one floor was the pharmacy, and in the back, there was a post office, a gallery, etc… I had made a gallery too, called Labo Gallery, which showcased works by Lichtenstein, Warhol, all those guys that no one in Montreal knew at the time.
LR: Was Bill Sofin also in charge of the gallery?
FD: No, it was Mireille Brisset who was in charge of the gallery. She was my assistant at the time, and now she has her own gallery outside of Montreal. In fact, Le Drug only lasted two years, unfortunately.
LR: Was this during the period when LSD or acid was still legal to sell? Because with a name like Le Drug and the art displayed there…
FD: Well yes, everything was legal!
LR: Was it your idea to have a pharmacy AND a cultural space? Because that's still an odd mix.
FD: …No, but it was the drugstore's idea. Le Drug was principally a pharmacy, and it sold beauty products, etc… It sold magazines and all sorts of things.
LR: But wasn't there a night when all the people went to the gallery, for an event, that people went there were pills or other interesting things?
FD: Quite possibly, but I was never into drugs myself, but most likely indeed.
LR: That was the era…
FD: Yes, a very active era!
LR: Was there any music there at time, shows or was it just art?
FD: In fact, I should add, the exterior of Drug, there was a sculpture made by Robert Roussil, who was a dynamic sculptor and had quite a mouth on him, etc… And he'd made a sort of sculpture out of metal. And on top of which he added a sign at sidewalk level, an enormous phallus made out of wood! So, I have some photos of all that, it's really fantastic! That was an era where we could do all sorts of things. And also, the level of Le Drug which had music–the basement part– along with the restaurant, was a discotheque where one could dance, etc… But we did not invite any groups, per say. There may have been one or two groups that played there from time to time, but that's it. It wasn't very big, just a tiny place. And the ceiling was very, very low in the basement. I had positioned the ventilation system outdoors because there wasn't enough room to install it inside the ceiling.
LR: Was it due to that, that a little while later, you got the contract to set up The New Penelope?
FD: Yes, yes, without a doubt, sure, sure!
LR: Do you design other clubs, or was it just Le Drug?
FD: No, no, that wasn't my specialty; it was just on rash impulse. In Gary's case, well, he was excited about Le Drug, etc… and he had a very slim budget, so that's how we made it happen at The Penelope. A plan a little bit like bleachers and with a scaffolding structure supporting lamps.
LR: And how did he get your number?
FD: Everybody knew each other back then, we would see each other at Le Drug, just like that.
LR: OK, so by 1966, you were well established in town. You had a practice, an office?
FD: Oh yes, yes indeed.
LR: It wasn't hard to get a work visa or citizenship back then?
FD: Well no. I got my citizenship after about two years and it was no problem. It's a lot harder today. Back then I used to live right above Le Drug. We were building the bottom part and in the upper part I had a studio that Sophie had invited me to live in. And then I moved to 4825 Ste-Catherine West. It's still and not far from here, in Westmount. So I moved to Westmount, without a concern over being English or French. It was a matter of convenience. And so, I found this house (the same one where this interview is taking place) and got married and had two kids, so we moved here and there you go.
LR: Did you see many concerts in 1966-1968 for business sake, being well-connected as you were?
FD: A few, yes, but I wasn't really fanatical about rock stars, but I shared the same mindset and got along with everybody.
LR: That brings me to my next question, the particularly impressive roster of groups playing at your concert [SUPER PARTY] in Spring [APRIL 27] of 1967—You invited The Blues Project, Lothar & The Hand People. What was your motivation for throwing this party? I presume it was excluded from the official [EXPO 67] party?
FD: No, that ain't right! Because it was the eve of Expo 67, we figured we should have OUR own opening party. For young people, for all those that worked on Expo 67, for all those mixed-up in this big venture, etc…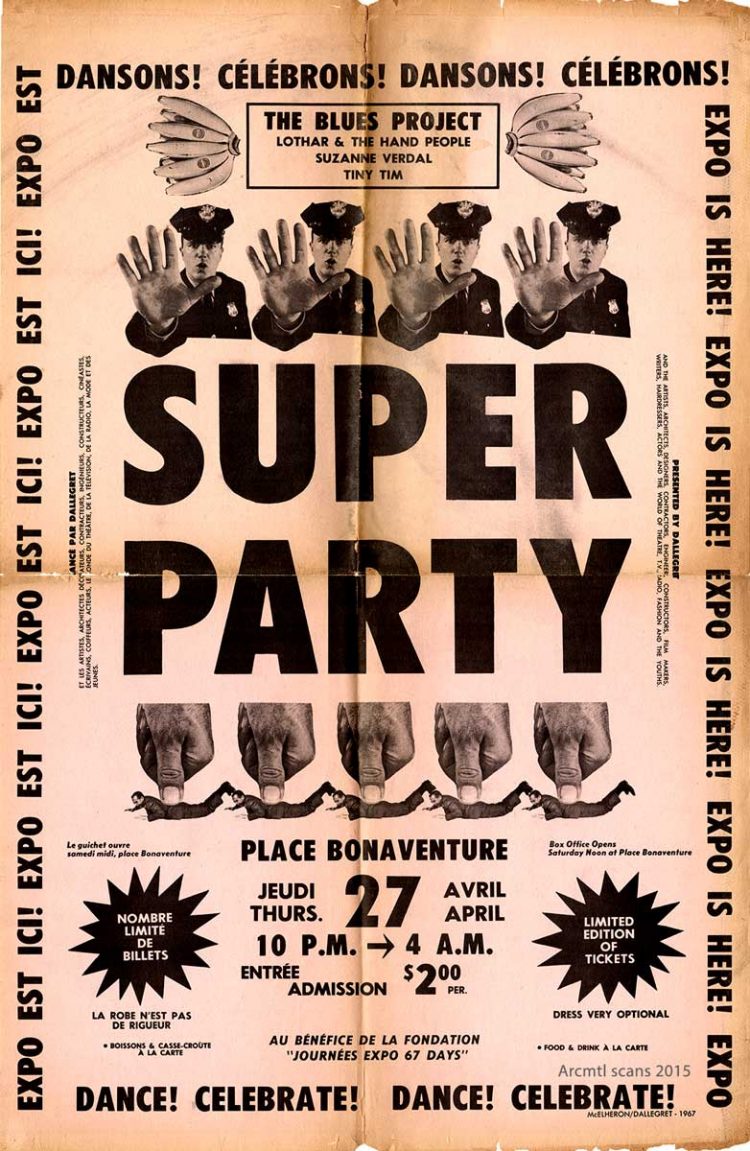 LR: Therefore I presume, there were a lot of other young designers, architects…
FD: Oh, for sure, we didn't want to attend the "official" Expo 67 opening
LR: With ties and all that.
FD: Yes, all that. So it was sort of organized a big party just like that. That's how it was done… Hand People, Tiny Tim… it was fantastic!
LR: How did you track down the managers of those groups?
FD: I would go to New York regularly, anyway, I knew all those people there, so that how that went.
LR: So, you knew the groups and the people that managed them personally?
FD: Well, I don't quite recall how it all happened, but I know doubt must have spoken to people "in-the-know" and just like that, they brought them. But organizing such an event wasn't at all that complicated.
LR: You'd ask them if they were available on such and such date…?
FD: Yes, exactly! We knew a booking agent and he took care of everything. When I lived in New York and stayed at the Chelsea Hotel, The Band was there and I knew Robbie Robertson. He's a friend of mine. So, if anyone hooked-me-up, it was most likely him! (laughs)
LR: Place Bonaventure, that's another surprising aspect–it just opened. Today, that wouldn't be possible. It would cost a fortune to rent. It was primarily constructed for conventions.
FD: That's for sure! But back then I knew the people that did the booking and all that.
LR: Oh OK, so those people were just looking to fill Place Bonaventure during those first few months or years.
FD: That's it, and I had even done a project called Metro Palace [Palais Metro]. Theoretically, I was aiming to do that project at Place Bonaventure. It's up on my website actually. It was a multiple level thing on the same principle as scaffolding actually. I was very hooked on the idea of it being a temporary thing, something quick, on the thought of elements appearing and disappearing. For example, I did a project for Esquire magazine called The Fun House, which was based on elements that were temporary. You can see all this on my website. Unfortunately, Metro Palace never happened.
LR: However, the concert did! Did it meet your expectations? How many people attended?
FD: Oh! I don't know… lots!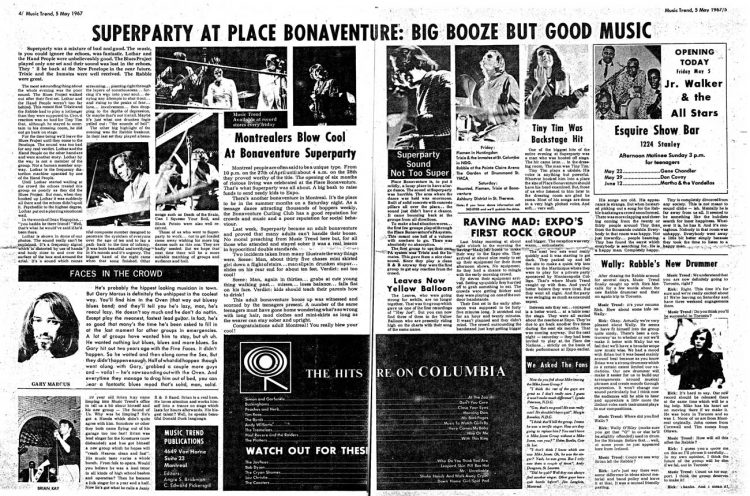 LR: Did you break even?
FD: I don't remember and we could care less back then and I was completely OK with it! The arrangement I had with Place Bonaventure, with the people responsible there for its development, with whom I corresponded with, they were all my friends anyway. So, that's who I organized it with, so no problems there.
LR: Do you remember if anyone might have recorded or documented the event …
FD: Unfortunately, no.
LR: So, you launched Expo for the people. Did Expo 67 itself, meet your expectations? Did you visit there often?
FD: Oh! Expo 67 was fantastic! It was the only expo–all the subsequent expos were pretty dull!
LR: On the architectural site, did you cross paths with others? Did any big names come to Expo? Any you got to meet?
FD: Oh! Yes, I went, I was at the opening for Fuller's dome [USA pavilion]. I knew the architects, the designers that did the set-up. So, in 1967, we were all part of this great big family, eh?
LR: In fact, we're getting a bit ahead of ourselves. Wasn't it in 1966 that you took on The New Penelope contract? Tell me about that.
FD: Yes!
LR: Is it true that Zappa, halfway into the job, suggested changes…
FD: That, I have no memory of…
LR: Gary supposedly said "Oh! Well when they came to set up their equipment—because they were playing there for two weeks anyway—not just a one-nighter—He said: "no, no, gotta change that, that and that." Now, I don't know if he was talking about sound equipment of the way the stage was set-up and all that…
FD: No, I would think that, with regards to re-setting the layout that could be done for sure. There was a lot of flexibility in that. So, regarding that, no problem. So changes were only for the sound system, to avoid reverberations.
FD: As you recall, this wasn't an enormous contract. It had to be done on a shoe-string budget. Was that the reason for having wooden benches and scaffolding or scaffolding style?
FD: No, it was really because he didn't have a lot of money, so I opted for that sort of system, a simple system of bleachers. A very simple system of scaffolding that could be set-up, taken apart, and a totally flexible lighting system, with classic, traditional lighting [ACTUAL MECHANIC LIGHTS].
LR: Supposedly, microphones were permanently in them.
FD: Yes, you could attach anything you wanted to them! It was the same system that I later used for another project I did in Kansas City. Not exactly the same, but using the same flexibility principle.
LR: It's curious, that among the people I've spoken with, despite many concerts there, there was a few gripes about the New Penelope over the bleacher-style seeting. That's what everybody seems to remember: how hard it was on the ass! Though I'm sure you're not the one to blame (laughs).
FD: No, no. But that was a bit the idea, that it not be that comfortable! At any rate, it was a dynamic spot! A spot where you could get up, split, come back, etc… It was a lifestyle, life across the place, etc… A hangout for young people!
LR: Right and on top of that, it seems a lot were coming and going because there was no alcohol; people would leave to get a beer nearby, or go to the back alley to smoke pot, or across the street.
FD: It was a rough area, and that was the whole idea! It's like Le Drug. When I did Le Drug, I established a system that while not being comfortable, you were allowed to stay in the Le Drug's restaurant for hours, not that they wanted you to. People had to circulate, come and go, etc… so it was pretty much the same principle.
LR: Today we don't allow that, they put a limit of a half-hour on free Wi-Fi to discourage loitering.
FD: It was a little bit like that.
LR: Did you have the opportunity to see Frank Zappa during those first shows, just to see how it all worked out?
FD: Yes, I saw all that, but I don't really have any recollections of that. In that era, Zappa mingled with everybody, young people, etc… and me, I was with my girlfriend and would just relax.
LR: Did you undertake any other works in the Montreal cultural milieu afterwards?
FD: All sorts of things. I have a thick folder actually.
LR: Subsequently, did you have the chance to cross path with other owners of bars, concert halls?
FD: Not really, no. I worked on a project in the USA, with Hallmark, that was in Kansas City, and then afterwards, the World Trade Center in New York.
LR: What did you do in that project in 1972-74?
FD: At the World Trade Center, that was the restaurant part in the basement. It also received a treatment using the principle of scaffolding, the principle of the fastened and of the temporary. It was a temporary restaurant, but one that finally lasted! People liked it so much that it lasted! (laughs)
LR: So, until its demolition that is, I presume that it gave you…
FD: … Shivers, a little bit…
LR: … Shivers that you felt personally, above the ones we all felt.
FD: That's for sure.
LR: I hope that was the only project of yours to come to such an end! (laughs)
FD: (laughs) Anyway, those were project of mine that didn't last long.
LR: Regarding the Ecole des Beaux-Arts, where we just held our exhibition, you mentioned to me that you had sort of built the metal frame at the bottom of the entrance staircase… when did you build that?
FD: In 1989, it was in the framework of the 1% of The Montreal Arts Council. So we realized this sculpture, a luminous sculpture made of undulated, translucent fiberglass with two fluorescent tubes on the right and left of it. It was a sort of portico in front of the main entrance, following the same concept of the building which was built in 1922, and that had been damaged by an associate of the architect that had built the supplemental upper floor over the cornice! I don't know if you've noticed but there's this extra floor that… is sort of an aberration…
LR: But even inside, we held our exhibition and at one point or another, we went up there to see the other floors we got lost, there's something not logical about the layout of that building.
FD: Yes, that too, eh? Same thing about the flow.
LR: And I believe the additional floor was only on one side, not the entire structure.
FD: Oh! Yes. So it's kinda mediocre, because the architecture of that era had a certain quality about it, a certain style, etc… and the fact of having added that element above the cornice, damaged the general architecture.
LR: Wasn't that done during the same time they moved the old Cormier atelier which now stands beside it?
FD: Yes, right next to it, though that was done independently, but at the same time.
LR: I'm happy that at least a portion of your instillation remains. But without any lights, it's hard to spot…
FD: That's true, and very sad also!
LR: Did you install any other lights to illuminate the structure?
FD: No, there were flags in some parts, very flexible, blowing in the wind, etc… but that too was half-demolished. But I'm hoping to re-launch that in time for Montreal's 375th.
LR: Apart from that, I would be curious to know about one last subject from that era – You're a Frenchman that arrived here in 1964, settled in Westmount during a very tension-filled era, where mail boxes were being blown-up.
FD: Yes, yes (laughs)
LR: And all that FLQ stuff, and here come de Gaulle. There were riots… What did you think of that era?
FD: What did I think of it? Well, I was not involved in any of that. The only thing regarding de Gaulle, is when he paraded down in front of the Ecole des Beaux-Arts in Paris, and I was just a student then in 1962. Back when I was studying there, the tradition was to "moon" people. So that's what we did when his motorcade passed by, we dropped trou, we were very swanky that way, bent over with our pants dropped to our knees!
LR: So you mean when he was right in front of you?
FD: Yes, when Charles de Gaulle came by, we came down from our atelier, saw all the fanfare, it was the Beaux-Arts before 68, before the revolution, it all completely changed afterward. So, we came down and Charles de Gaulle came by, and I yelled out "Long live Charles!", then lowered my trousers. The cops took me away and tossed me in the klink. (laughs)
LR: Just for the night?
FD: Yes, something like that! I was living in the servants' quarters at the time; they searched my room to see if I had any propaganda leaflets or things like that. (laughs) So that was the only memory I had of de Gaulle, but as far as the FLQ and all that, I wasn't involved in any of that.
LR: Were you at all surprised to see the reception of such a hero, especially from young people and…
FD: Definitely.
LR: So, he didn't really know what he was talking about…
FD: "Vivre le Quebec Libre"… was just something he blurted out. Back then I didn't have any idea of what was going on.
LR: But you were comfortable with both [linguistic] communities. Did you have francophone friends bitch you out for not being sympathetic to their cause?
FD: No, not at all, it was all quite relaxed.
LR: You lived a good stretch through Mayor Drapeau's reign. As a citizen and architect, in the architecture milieu, how were things?
FD: Well, you know the story of the Olympic games with Taillibert, the architect who designed the Olympic Park. Tallibert, in reality, was just a student in Paris. We were in the same atelier together! In the '60s, he was just a little bit older than me, and he had quit the atelier just as I was arriving, so I only met him maybe 2-3 times, just like that. Then afterwards, he did the stadium and there you go! And we all know how that worked out. Now, as it happens, I did the furniture in 1976, and at the beginning of this year, I was asked to redo it and construct all new furniture.
LR: You mean the benches?
FD: The benches, that's right. Metal benches, concrete blocks.
LR: Because the benches had curves, which skateboarders really love. You did all that?
FD: Correct! So then, they wanted me to redo them, but in a way to hinder skateboarders, so I had to add little pins…
LR: Something they had never considered back in the day?
FD: Well yes, that's for sure.
LR: At the same time, that was quite annoying, considering its importance to skateboarding in Montreal, thanks to your original design.
FD: Oh! Yeah… really?
LR: It seems to me that it really drew a lot of people to the Olympic Park,
FD: a place for skateboarding, really?
LR: Yes indeed, there was even a book about it.
LR: What was that originally…
FD: It was a structure that I had made at the time. With elements, with connectors from Polelight. Polelight was a lighting manufacturer that made light posts. So they built stuff everywhere, on highways, etc… and they used connectors.
LR: Made of aluminum?
FD: Yes, all made of aluminum, and they used these connectors. And since they were people I knew very well, I'd buy some of these connectors, and tubes they would provide and there you have it. Evidently, they faded a little bit over time. They anodized.
LR: But they were installed here originally? You brought them here from…
FD: Well, I brought them here. Back then they were being used by Phyllis Lambert, in Old Montreal. I had a gallery in her building on Bonsecours Street and inside, I installed this structure at one point of another. Then, finally, I took it out and moved it here, that was in 1970.
LR: Oh! Wow! So it date from then. You're still in contact with Phyllis Lambert, I presume?
FD: Oh! Yes, for sure. She was my second biggest client after Sofin and Le Drug!
LR: Oh! Really?
FD: I've known her since then, since 1964… feels like 120 years, or more!